October 24, 2022
Sales Development Representative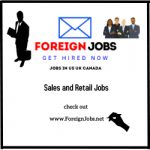 Position Sales Development Representative
Industry: IT
Employment type: Remote
Experience: 1 to 2 year
Qualification: Degree holder
Salary: $70,000–$100,000
Company: Bravado
Location: Phoenix, AZ, USA
Description:
Sales Development Representative
Overall description
An identity startup is looking for the first members of our Sales team. You will be critical in ensuring they get their category-defining product into every enterprise's hands! You will own our outbound sales engine and help build pipeline as we come out of stealth and make a splash in the market.
You're Role
Prospect into Key Accounts and identify key Decision Makers
Draft outreach plans and messaging sequences
Identify needs and challenges of prospective customers
Qualify discovery and demo meetings for Sales
Respond to and qualify incoming inquiries regarding interest
Craft a great first impression to our prospects and customers by adding value during every customer touchpoint
What We Value
We purposefully did not create a standard list of minimum qualifications because we care much more about your motivation and ability to help us accelerate technical progress than we care just about you're CV. Instead of focusing on what people need to have, we focus on what people need to do. Additionally, we try to find out whether you would be a good fit for the company based on our values that define how we achieve outcomes and what characteristics we value.