June 18, 2021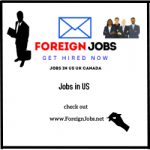 Position Business Systems Analyst
Industry: Electrical & Electronic Manufacturing
Employment type: Full Time
Experience: minimum 7 year
Qualification: Degree holder
Company: Flex
Location: Austin, TX, United States
Description:
About the job
The Business Systems Analyst will be based in Austin, TX. In this role you will be responsible for analyzing complex business problems in order to solve them with automated systems. You will also be responsible for creating automated systems in order to make them more efficient. You will provide technical expertise in identifying, evaluating and developing systems and procedures that are cost effective and provide intensely collaborative consultation to users in the area of automated systems.
We Are Looking For Someone Who Demonstrates:
Intense collaboration
Passionate customer focus
Thoughtful, fast, disciplined execution
Tenacious commitment to continuous improvement
Relentless drive to win
Here Is a Glimpse of What You'll Do:
Determine required improvements on the systems, supervising its correct implementation in order to meet customer requirements
Assist team on the determination of methods and procedures of new assignments
Write functional and technical specifications for developers
Experience working on complex issues where analysis of situations or data requires an in-depth evaluation of variable factors
Verify newly developed processes
Responsible for analysis, evaluation, testing and debugging for shop floor application programs in support of various manufacturing areas
Provide day-to-day end user service and technical support
Perform software configuration and setups of new customer in MES tracking system
Assists in determining suitable software to meet business requirements
Troubleshoot software and hardware failures and identify network problems when they relate to shop floor computers
Writing Medical documentation that is compliance with FDA regulations for Medical customers.
Here Is Some of What You'll Need (required)…
Minimum 7 years of industry experience working with SQL/MES Application (FlexFlow)
Create SSRS Reports
Create Stored Procedures, Triggers, Views, and Indexing
Support Relational Database Management Systems (RDBMS)
SQL, T-SQL and SQL-Profiler
Client/Server application interfaces, Distributed systems interfaces and peripheral devices
Here Are a Few of Our (preferred) Experiences
DTSX Packages (BI tools)
Tableau Data Visualization
DENODO Data Visualization
Ignition
.NET Programming
API Programming
SS2
Flex does not accept unsolicited resumes from headhunters, recruitment agencies or fee based recruitment services. Flex is an Equal Opportunity Employer and employment selection decisions are based on merit, qualifications, and abilities. Flex does not discriminate in employment opportunities or practices based on: age, race, religion, color, sex, national origin, marital status, sexual orientation, gender identity, veteran status, disability, pregnancy status or any other status protected by law. Flex provides reasonable accommodation so that qualified applicants with a disability may participate in the selection process. Please state your request for assistance in your message. Only reasonable accommodation requests related to applying for a specific position within Flex will be reviewed at the e-mail address. Flex will contact you if it is determined that your background is a match to the required skills required for this position. Thank you for considering a career with Flex.
The Information We Collect
We may collect personal information that you choose to submit to us through the Website or otherwise provide to us. This may include your contact details; information provided in online questionnaires, feedback forms, or applications for employment; and information you provide such as CV/Resume. Your details will be provided to the entity you are applying for a job with.
We will use your information for legitimate business purposes such as responding to comments or queries or answering questions; progressing applications for employment; allowing you to choose to share web content with others or; where you represent one of our customers or suppliers, administering the business relationship with that customer or supplier. We will process your data in accordance with our recruitment privacy notice