August 28, 2023
Shift Supervisor, Chicago, IL, USA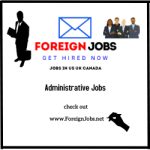 Position Shift Supervisor
Industry: other
Employment type: Full Time
Experience: 3 to 5 year
Qualification: High School diploma or equivalent
Location: Chicago, IL, US
Company: AutoZone
Description:
Shift Supervisor (Full-Time)
AutoZone · Chicago, IL
Position Summary
AutoZone's Full-Time Shift Supervisors assist the Store Manager with leading company initiatives and ensuring maximum productivity, training high performing AutoZoners in a safe environment, driving sales, controlling expenses and shrink, and remaining compliant with company procedures in accordance to AutoZone's expectation. Shift Supervisors exceeds customer's expectation by delivering a WOW! Customer shopping experience on assigned shifts by Living the Pledge every day.
Position Responsibilities
Assists Store Manager with supervising, training and developing store personnel
Assumes responsibility for the store operation and commercial department in the Commercial Sales Manager and Store Manager's absence, on assigned shifts
Assists with management of the Commercial and Hub Departments, (as applicable), to ensure commercial accounts and stores are serviced and deliveries are made as promised
Delegates and ensures store merchandising tasks are completed in a timely manner
Operates cash registers and follows established cash handling duties, including but not limited to deposits, petty cash and lane accountability
Ensures all company policies, and loss prevention procedures are followed
Utilizes ZNET to help customers locate merchandise or find suitable alternatives
Maintains a safe working environment while ensuring AutoZoners are implementing those practices including PPE (Personal Protective Equipment)
Monitors cash flow, inventory and security control
Maintains sales productivity, store appearance and merchandising standards
Conducts and reviews all opening and closing procedures
Manages emergency situations and conduct proper emergency procedures
Follows proper accident procedures
Provides feedback regarding AutoZoner performance to the store manager
Assists with monitoring and managing all activities related to Risk & Safety Management to maintain a safe work environment
Addresses customer concerns and resolves them with a goal of turning a complaint into a compliment
Processes returns and effectively manages inventory
Communicates AutoZoner issues and concerns to the Store Manager in a timely and confidential manner
Motivates AutoZoners to provide WOW! Customer Service, enhance productivity level and market products to enhance sales and profits
Position Requirements
High School diploma or equivalent
ASE Certified preferred
Demonstrates high level of integrity
Excellent communication and decision making skills
Ability to drive customer service