October 22, 2022
Sales Support Enrollment Representative
Full Time
Applications have closed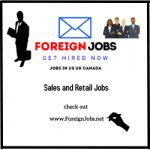 SCAN Group
SCAN Group is a not-for-profit organization
Position Sales Support Enrollment Representative
Industry: Healthcare
Employment type: Full Time
Experience: 1 year
Qualification: G.E.D or High School Diploma
Company: SCAN Group
Location: Long Beach, CA, USA
Description:
Sales Support Enrollment Representative
About SCAN
SCAN Group is a not-for-profit organization dedicated to tackling the most pressing issues facing older adults in the United States. SCAN Group is the sole corporate member of SCAN Health Plan, one of the nation's leading not-for-profit Medicare Advantage plans, serving more than 270,000 members in California, Arizona, and Nevada. SCAN has been a mission-driven organization dedicated to keeping seniors healthy and independent for more than 40 years and is known throughout the healthcare industry and nationally as a leading expert in senior healthcare. SCAN employees are a group of talented, passionate professionals who are committed to supporting older adults on their aging journey, while also innovating healthcare for seniors everywhere. Employees are provided in-depth training and access to state-of-the-art tools necessary to do their jobs, as well as development and growth opportunities. SCAN takes great pride in recognizing our team members as experts in their fields and rewarding them for their efforts. If you are interested in becoming part of an organization that is innovating senior healthcare visit www.thescangroup.org, www.scanhealthplan.com, or follow us on LinkedIn, Facebook, and Twitter.
The job
Provide excellent customer service for contracted Brokers and SCAN Sales Representatives that call into the Telephonic Intent-To-Enroll phone line.
Support the Medicare Beneficiaries who call in with their chosen sales representative on a three-way, recorded call to complete an enrollment.
You will answer phone calls from internal sales representatives as well as external broker agents who call in with questions regarding the Telephonic Intent to Enroll Process.
Provide excellent customer service to the Sales Representatives and their clients. Advise all callers that every call is being recorded and they are completing an enrollment with SCAN Health Plan.
Follow department approved script(s) and department policies and procedures that foster compliance. Accurately interpret and explain the enrollment process.
Maintain professional knowledge of Medicare and SCAN enrollment requirements.
Document all calls in the Telephonic Enrollment call log, according to department standards.
Contribute to overall Sales Operations team effort by spending time not on the phones by working on special projects, outbound call campaigns, and accomplishing related results as needed.
You're Qualifications
Required: G.E.D or High School Diploma
1 year sales support experience in a call center environment
Excellent communication and time management skills.
Bilingual, Spanish speaking, preferred.
Excellent communication and time management skills.
Bilingual, Spanish speaking, preferred.
Strong interpersonal skills, including excellent written and verbal communication skills.
Strong organizational skills; Ability to multitask.
Ability to appropriately maintain confidentiality.
Office hours are typically Monday through Friday, 8:00 AM to 6:00 PM. Daily work schedules may vary, and extended work hours may apply, as needed.
What's in it for you?
A competitive compensation and benefits program
An annual employee bonus program
Robust Wellness Program
Generous paid-time-off (PTO)
Eleven paid holidays per year, plus 1 additional floating holiday
Excellent 401(k) Retirement Saving Plan with employer match
Robust employee recognition program
Tuition reimbursement
A work-life balance
An opportunity to become part of a team that makes a difference to our members and our community every day!
Covid-19 Vaccination Policy
To ensure a healthy and safe work environment, if you are selected for this position, your job offer with SCAN Health will be contingent upon being fully vaccinated and providing proof of your COVID-19 vaccine within 3 days after your start date. Generally, you are considered fully vaccinated 14 days after receiving the last dose, as recommended by the manufacturer, of a vaccine that has been authorized by the FDA for use in the United States, including vaccinations that have been approved pursuant to an Emergency Use Authorization. If fully vaccinated outside of the United States, the vaccination must be listed for emergency use by the World Health Organization (WHO). If you cannot receive the vaccine because of a disability/medical reason or sincerely-held religious belief, you may request an accommodation to this requirement by contacting COVID-19 Vaccination Policy. Learn more about the COVID-19 vaccination here –
We're always looking for talented people to join our team! Qualified applicants are encouraged to apply now!
At SCAN we believe that it is our business to improve the state of our world. Each of us has a responsibility to drive Equality in our communities and workplaces. We are committed to creating a workforce that reflects our community through inclusive programs and initiatives such as equal pay, employee resource groups, inclusive benefits, and more.
SCAN is proud to be an Equal Employment Opportunity and Affirmative Action workplace. Individuals seeking employment will receive consideration for employment without regard to race, color, national origin, religion, age, sex (including pregnancy, childbirth or related medical conditions), sexual orientation, gender perception or identity, age, marital status, disability, protected veteran status or any other status protected by law. A background check is required.