November 14, 2023
Office/Marketing Assistant Orlando FL US
Full Time
$19/hour USD / Hour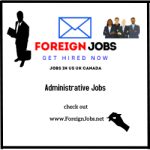 Position Office/Marketing Assistant
Industry: Other
Employment type: Full Time
Experience: 1 year
Qualification: Diploma/Degree/High school
Salary: $19/hour
Company: Tews Company
Location: Orlando, FL, US
Description:
Office/Marketing Assistant
Job Description
Ready to take your positive attitude, strong front desk management skills and proficiency with InDesign to a growing company?
Want to work in the trendy College Park area, where you can enjoy a mid-day break with a taco from Tijuana Flats, or nosh on a salad from Infusion Tea?
Then, this may be the position for you!
Must be adept with answering a multi-line phone
Have an engaging personality
Proficient with MS Office and with Adobe InDesign
Are comfortable in a professional office environment
Able to work independently with minimal supervision
Have at least 1 year of experience in a Receptionist/Front Desk role
Experience in the real estate, property management or interior design industry is a big plus
This is a full-time position with a starting pay rate of $19/hour.