July 19, 2023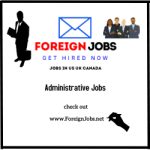 Research Electro-Optics Boulder
Position: Machine Operator
Industry: other
Employment: Full Time
Experience: 3 to 5 year
Qualification: Degree Holder
Salary: $20/hr – $25/hr
Location: CO (On-site), US
Company: Research Electro-Optics Boulder
Description:
APPLY HERE:
Machine Operator required
ENABLE your future through light. We are presently seeking a Machine Operator that will use CNC machinery to perform various fabrication processes to produce products that meet the requirements of our customers both internal and external.
Main responsibilities: Performs basic shaping process steps on simple to medium-difficult parts Operation Control – Controlling operations of equipment or systems with CNC or manual controls Mathematics – Using basic mathematics and geometry to solve problems Basic reading and comprehension of work instructions and prints for basic dimensions Align and secure holding fixtures, cutting tools, attachment accessories (tool holders), and materials into machines.
Cleans and maintains machinery, equipment, and work areas to ensure the proper functioning and safe working conditions.
Set up materials into machines and equipment to process and manufacture products with the CNC machine tools. Inspects materials and products for defects and to ensure conformance to specifications of print or process Work at different workstations as production needs require.
Use and read measuring devices, i.e., rulers, calipers, micrometers, thermometers, gauges, etc and perform self-inspection on all process steps. Machine parts to specifications using machine tools. Block optics for dicing, machining, and core drilling using adhesives, thermoplastics, and waxes. Performs other duties as assigned
Requirements: High School Diploma or GED required preferred Basic Math skills Teamwork – the ability to work effectively and contribute to a team No previous experience required
Benefits start day 1: Medical, Dental, Vision, 401K, Paid Time Off, Holiday Pay, Tuition Reimbursement, Long-term and Short-term disability Pay Range: \$20-\$25 per hour, depending on experience.
This position requires the use of information which is subject to the International Traffic in Arms Regulations (ITAR) Visa sponsorship is not available for any position at Excelitas
Excelitas is seeking leaders and innovators to join our global team!
Excelitas is a global technology leader with more than 7,500 employees, focused on delivering market-driven solutions to fulfill the illumination, optical, detection and imaging needs of OEMs and end-users across the biomedical, semiconductor, industrial, consumer products, scientific, security, defense and aerospace sectors.
ENGAGE with us today and make your contribution to the future! Join the team that leading technology companies turn to for cutting-edge photonic innovation.
At Excelitas Technologies you are how we EXCEL. Our facility in Boulder, Coloradohas key functions in Research and Development, Operations, Production, and other disciplines.
This facility specializesin the manufacturing of ultra-precision optical components, optical thin film coatings and optical sub-assemblies for demanding applications in lasers, materials processing, instrumentation, life sciences, avionics, and defense.
This site offers capabilities that include substantial design and engineering resources, comprehensive optical fabrication and coating capabilities, advanced assembly technology and an extensive in-house metrology lab.
LI-IV1
Requirements Use CNC machinery to perform various fabrication processes to produce products that meet the requirements of our customers both internal and external.
Please read and agree to the statement below to proceed and submit your application for this rolE: Thank you for your interest in Excelitas. We respect your.
We need your consent to save your contact information and CV and for you to confirm that we can contact you in the future.
Please know that Excelitas will never share or sell your contact data. Declaration of Consent under Data Protection Legislation I consent to the collection, processing and se of the data submitted here by Excelitas Technologies Corp. and its under the condition that such use is limited to recruitment opportunities.
I understand that the information I provide shall be retained for a period no longer than one year, after which time it will be deleted. YES, I AGREE to the storage and use of my data by Excelitas to contact me for the purpose detailed above.
Equal Opportunity/Affirmative Action Employer Minorities/Females/Disability/Veteran/Gender Identity/Sexual Orientation