November 14, 2023
IT Auditor Des Moines IA USA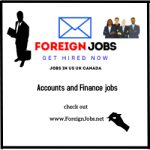 Position IT Auditor
Industry: Other
Employment type: Full Time
Experience: 5 plus year
Qualification: Degree holder
Company: Allied OneSource ·
Location: Des Moines, IA, USA
Description:
IT Auditor
Are you someone who wants to play a critical role in our company's success?
Do you enjoy solving puzzles and finding a better way to get things done?
Are you someone who likes to Take The Lead and make an impact?
If so, imagine yourself in this position and apply today!
The Senior IT Auditor will be responsible for performing reviews that examine and evaluate the adequacy and effectiveness of the Financial organization's risk management, internal control and governance processes for all organizations information systems operations. You will provide analyses, recommendations and information resulting from these reviews are reported to the Audit Committee of the Board of Directors and management to assist them in the effective discharge of their responsibilities. You will also responsible for reviewing processes for organizational risk and related controls and looking for opportunities to facilitate efficient and effective accomplishment of key IT business objectives. The organization offer great culture and benefits. This is a hybrid position
Duties:
Conduct assigned audit engagements successfully from beginning to end.
Develop and execute audit programs covering information processing systems to evaluate the adequacy of controls, compliance with applicable laws and regulations, cost effective acquisition, management and utilization of resources.
Develop and execute audit programs in accordance with the International Standards for the Professional Practice of Internal Auditing
Develop and execute audit programs to assess the design and/or development of system development projects and ensure the ability of the proposed system to effectively manage the environment for which it is intended; propose recommendations as necessary.
Manage departmental internal controls and regulatory issues.
Qualifications:
5+ years' IT audit or information technology business experience.
CISA, CISSP, CPA and/or CIA designations preferred; if person has not achieved certification, candidate is expected to work towards obtaining.
Critical thinker with the ability to navigate complex areas.
Experience in cybersecurity audit, integrated audit and SOX IT audits preferred.
Experience in data analytics, scripting and coding preferred.
Experience with a "Big4" audit firm a plus.
Strong knowledge of control principles/frameworks (COBIT, COSO, ITIL).
Strong knowledge of IT operations, operating systems and applications.
Business and finance operations experience a plus.
Bachelor's Degree required (Computer Science or other business subject preferred).