July 12, 2023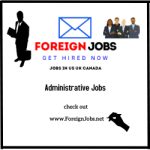 The State University of New York
Position Grants Manager
Industry: Education
Employment type: Full Time
Experience: 3 years
Qualification: Bachelor's degree (foreign equivalent or higher
Company: The State University of New York
Location: Stony Brook, NY On-site,USA
Description
Grants Manager required
Bachelor's degree (foreign equivalent or higher). Three (3) years of full-time administrative experience to include projects or programs involving external sponsors.
Preferred Qualifications:
Master's degree (foreign equivalent or higher). Experience with budgets, awards, subawards and/or effort. Experience with cost accounting standards. Experience with Microsoft Excel.  Experience with My Research. Experience with Oracle. Experience with SUNY RF Report Center.
Brief Description of Duties:
The Grants Manager will be responsible for the management of federal, private and industry grants. This involves administrative and fiscal management of multiple grants, preparing budget projections, balancing and tracking expenditures and coordinating all activities related to purchasing and payroll. Incumbent will act as a liaison between the Principal Investigators (PI) and other investigators involved in collaborative research, the Department Administrator and Offices of Grants Management and Sponsored Programs.
Pre-Award:
Guide and facilitate faculty and staff in the development and preparation of research proposals, contracts, sub-contracts, and agreements.
Evaluate proposed budgets for correct allocation of expenditures such as salaries, funded effort, fringe rates, etc.
Review and provide final approval of funding proposals in my Research.
Maintain a library of grant proposal items to facilitate continuity across proposals.
Post-Award:
Coordinates receipt of awards and contract documentation.
Work with PIs to develop and maintain sub agreements/contracts related to parent funding of projects involving other research sites.
Effort certifications for Department funded RF employees.
Oversee all Research Projects (Financial, Ethical, Strategy, etc.) helping to ensure that grant expenditures are done as per regulatory requirements.
Oversee Assistant Grant Manager in providing on-going support to Lab Directors and their staff, as it relates to grant administration and organizational policies.
Oversee Assistant Grant Manager in responsibility for CUBIT Lab budgets.
Oversee Assistant Grant Manager in working with HR for RF employee recruitment, tracking appointments, and salaries.
IFR and other Department Accounts:
Oversee/manage/track collection of Faculty salary offsets, MOU payments, SBF commitments, etc.
Oversee/manage/track payment of IFR, IDC, RF and SBF account expenses such as construction, salaries, and departmental non-clinical and administrative expenses (phones, supplies, misc. expenses). Report quarterly and as requested.
Develop Budget projections of revenue and expenses for IFR, RF and SBF accounts: collection of IFR account salary offsets; and payment of IFR, RF and SBF account expenses such as construction, salaries, and departmental non-clinical and administrative expenses (phones, supplies, and misc. expenses). Report quarterly and as requested.
Develop policy, procedure and guideline proposals that support departmental growth.
Prepares scheduled reports, as needed.
Identify Research space requirements, solutions, and assignments.
Submit Budgets, Projections, and Actuals to Department Financial Analyst.
Research Faculty:
Facilitate Research Faculty recruitment: salaries; 50/50 "load" calculations and tracking; oversee/manage/track the start- up packages.
Manage Start-Up funding for Research Faculty.
Manage finances for Department/SOM/OVPR/SBU funded initiatives such as Pilot Grants Program, promotion related increases to Faculty salaries, Research related Also Receives, Department Match on faculty development funding, etc.
Draft Offer Letter for submission to Department HR Manager/ Faculty Affairs Coordinator.
Initiate Clinical credentialing, insurance paneling, and patient scheduling for Researchers with Clinical responsibilities and "loads".
Supervision:
Supervise Assistant Grants Manager on all duties.
Other duties as assigned.
Special Notes:
The Research Foundation of SUNY is a private educational corporation. Employment is subject to the Research Foundation policies and procedures, sponsor guidelines and the availability of funding. FLSA Exempt position, not eligible for the overtime provisions of the FLSA. Minimum salary threshold must be met to maintain FLSA exemption.
Essential Position: This has been designated as an essential position based on the duties of the job and the functions performed. Positions that are designated as such may be required to report to work/remain at work even if classes are canceled, and the campus is working on limited operations in an emergency.
Resume/CV and cover letter should be included with the online application.