October 8, 2023
Data Entry Clerk / Junior (Remote) New York NY USA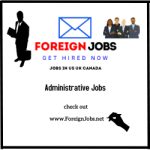 Position: Data Entry Clerk / Junior (Remote)
Industry: other
Employment: Full Time
Experience: 2 to 5 year
Qualification: Diploma/Degree
Location: New York, NY, USA
Company: HireMatch
Description:
Data Entry Clerk / Junior (Remote)
Are you ready to embark on a career that offers endless opportunities for growth and development? Do you have a passion for precision and an eye for detail? If so, we have the perfect entry-level opportunity for you as a Remote Data Entry Operator at our company.
About Us:
We believe that data is the lifeblood of modern business. Our mission is to empower organizations with the most accurate, up-to-date, and reliable data to drive their success. As a Remote Data Entry Operator, you will play a pivotal role in ensuring that our data remains pristine and ready for analysis.
Responsibilities:
Accurately input, update, and maintain large volumes of data into our database systems.
Verify and cross-reference data to ensure its accuracy and completeness.
Conduct data quality checks and resolve discrepancies in a timely manner.
Collaborate with other teams to gather and clarify data requirements.
Maintain data confidentiality and adhere to data security protocols.
Contribute to process improvement initiatives to enhance data entry efficiency.
Qualifications:
High school diploma or equivalent; additional education or certification in data entry is a plus.
Strong attention to detail and commitment to data accuracy.
Proficient in data entry software and Microsoft Office Suite.
Excellent time management and organizational skills.
Strong communication skills, both written and verbal.
Ability to work independently and meet deadlines.
Prior experience in data entry is preferred but not required.
Benefits:
Remote Work: Enjoy the flexibility of working from the comfort of your home.
Training and Development: We invest in your growth with ongoing training and opportunities for career advancement.
Competitive Compensation: Receive a competitive salary and performance-based bonuses.
Health and Wellness: Access to health and wellness programs to support your well-being.
Team Collaboration: Be part of a supportive and collaborative team culture.
Work-Life Balance: Maintain a healthy work-life balance with our flexible work hours.
Employee Recognition: Receive recognition and rewards for your contributions.
Technology Allowance: We provide the tools you need to excel in your role.
Join our dynamic team at our company and be a part of a data-driven revolution. Your passion for precision and dedication to data accuracy will be the driving force behind our continued success.
If you're ready to kickstart your career in data entry and make a meaningful impact, apply today! Together, we'll shape the future of data excellence.