November 4, 2023
Coordinator Central Business Operations Richmond VA USA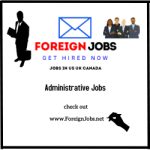 Position Coordinator Central Business Operations
Industry: auto industry
Employment type: Full Time
Experience: 2 to 4 year
Qualification: High School diploma/GED
Company: CarMax
Location: Richmond, VA, USA
Description:
Coordinator Central Business Operations required
About the job
8901 – Corp Office West Crk – 12800 Tuckahoe Creek Parkway, Richmond, Virginia, 23238
CarMax, the way your career should be!
About This Job
CarMax is seeking a Coordinator I in Central Business Operations at our Home Office in Richmond, Virginia. The Coordinator I role plays a critical part in making inventory saleable for CarMax. While reviewing vehicle titles, Coordinator I Associates utilize organizational skills and attention to details. Central Business Operations is a collaborative and highly motivated team. Team members have the opportunity to build strong relationships, gain knowledge about our business, and grow within the company.
What You Will Do – Essential Responsibilities
Receive, open and sort incoming department mail and distribute shared workload to team.
Validate, complete and reassign titles and documents based on set processes ensuring accuracy and in compliance with state and rules and regulations.
Prepare titles and documents for shipment to individual stores to include collecting, filing and packaging.
Partner with team members, other departments, and store locations when necessary to resolve lien holder and auction house title related errors.
Perform research and partner with team members when titles or documents cannot be located.
Research and attach any needed documents to checks prior to sending to lien holders or finance companies.
Other administrative functions as needed.
Purpose of the role
The Coordinator I, Central Business Operations responsible for auditing titles and documents, by utilizing resources and knowledge learned. This position includes entering all title data into computer programs with an emphasis on accuracy and speed. The Coordinator I will sort incoming department mail, file and re-package for same day shipping to all CarMax locations.
Qualifications And Requirements
High School Diploma or equivalent required
Basic working knowledge of Microsoft Word and Excel functions
Customer service skills
Store knowledge preferred, but not required
High School diploma/GED and/or related experience/training
This position is required to onsite at our WestCreek location in Richmond, VA
About CarMax
CarMax disrupted the auto industry by delivering the honest, transparent and high-integrity experience customers want and deserve. This innovative thinking around the way cars are bought and sold has helped us become the nation's largest retailer of used cars, with over 200 locations nationwide.
Our amazing team of more than 25,000 associates work together to deliver iconic customer experiences. Along the way, we help every associate grow their career and achieve their best, at work and in their community. We are recognized for our commitment to training and diversity and are one of the FORTUNE 100 Best Companies to Work For®.
Our Commitment to Diversity and Inclusion
CarMax is committed to bringing together people from different backgrounds and perspectives, providing employees with a safe, welcoming, and inclusive work environment.
CarMax is an equal opportunity employer, and all qualified candidates will receive consideration for employment without regard to age, race, color, religion, sex, sexual orientation, gender identity, genetic information, national origin, protected veteran status, disability status, or any other characteristic protected by law.
Upon an applicant's request, CarMax will consider reasonable accommodation to complete the CarMax Job Application