November 3, 2023
Commercial Sales Manager Lewisville TX USA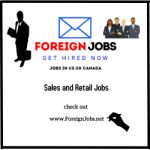 Overhead Door Corporation
Position Commercial Sales Manager
Industry: Other
Employment type: Full Time
Experience: 4 to 6 year
Qualification: Degree holder
Company: Overhead Door Corporation
Location: Lewisville, TX, USA
Description:
Commercial Sales Manager required
The Ribbon Channel High Performance Door Commercial Sales Manager will have responsibility for the Western part of the United States aligned with the Distributor Sales Region.
Responsibilities
Primary responsibility is to grow sales by identifying, prospecting, and selling commercial opportunities and maintaining existing end user customers within the assigned region.
Also responsible for establishing and maintaining business relations with general contractors, architects, dealers, distributors and customers and prospective customers.
Responsible for prospecting and cold calling, maintaining consistent customer contact and communication along with aggressive follow up to achieve targeted growth.
Maintaining call reports, communicate new business opportunities and market intelligence to the company.
Develop strong relationships with builders, developers, contractors, engineers, architects and end-user customers.
Responsible for developing territory sales budgets and individual account goals, promoting product loyalty.
Directs customer sales efforts by utilizing point of sale material and advertising programs.
Ensures effective channels of communications are maintained in all levels of sales, management, production, and customer service.
Analyzes competitor activities in relationship to product, pricing, promotions, and new products, etc.
Analyzes customer needs as related to product forecasting, problem solutions, personnel training, and most other activities related to maintaining a sales force.
Responsible for effective management and sales of current and new product introductions to current and new customers.
A minimum of five to eight years of experience sales management experience, two to five years selling an engineered product.
Sales management experience with proven track record to grow sales in assigned territory, preferably on a Regional level.
Must possess a strong mechanical/technical aptitude and be good with numbers.
An understanding of the construction industry with the ability to read, understand blue prints, specifications and perform take-offs.
Must also have an understanding of both pricing and P&L as it relates to customers.
Must have excellent written and verbal communication skills.
Strong presentation skills with the ability to demonstrate our brand to both small and large groups with marketing tools and manuals.
Good listening skills.
An enthusiastic, energetic individual with a commanding presence and strong customer relationship building skills.
Strong negotiation and influencing skills.
Must be a self-motivated professional with the ability to engage, possessing excellent selling skills.
Must have strong organizational and analytical skills; responsible time management and timely reporting required.
Ability to think and operate both short and long term, be able to hit sales numbers without sacrificing long term goals.
Must possess computer proficiency in Microsoft Word, Excel and PowerPoint.
Education Requirements
Bachelor's degree in business or 4-6 years related job experience.
Physical/Work Environment Requirements