September 5, 2023
Cashier, Orlando, FL, USA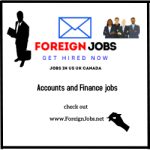 Position: Cashier
Industry: Hospitality
Employment type: Full Time
Experience: 2 to 5 year
Qualification: Degree Holder
Salary: $20/hour
Company: Flippers Pizzeria
Location: Orlando, FL (On-site), USA
Description
Cashier – Earn up to $20/hour!
About the job
We are excited to announce the opening of our next location in Central Florida! This opportunity is for our new location in O-Town West and we are looking for new Team Members. This location is opening within the next 30 days and we will be contacting applicants soon.
Cashier
Now hiring Cashiers at Flippers Pizzeria! This is an exciting opportunity to be a part of our team and join our growing company! This opportunity is for our O-Town West location.
11830 Glass House Lane
Orlando, FL 32836
Excellent customer service is our number one priority. We want a guest to visit any one of our locations and receive the great service that they expect from us. As a cashier, you will have an opportunity on every shift to connect with our guests.
What We're Looking For:
Friendly and out-going attitude
Team player to support all team members in completing tasks
Ability to provide excellent customer service
Enjoys working in a high energy, fast paced environment
What We Expect for This Position:
Welcome guests into our restaurants
Ability to take orders from guests and answer questions regarding any of our items
Run food orders and maintain a clean and inviting dining room
Assist third party customers in quickly obtaining to-go orders
Complete side work as needed
Must be able to stand for up to 8 hours during a shift and lift up to 50 pounds repeatedly
What We Offer:
Weekly Pay
Free employee meal during your shift and discounted meals at Flippers Pizzeria
Wage increases, based on skill
Fun and professional work environment
Flexible schedule – day and evening shifts available
Career growth opportunities