November 14, 2023
$17.00 per Hour USD / Hour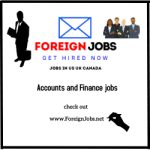 Position Cashier
Industry: other
Employment type: Full Time
Experience: 2 to 5 year
Qualification: Degree Holder
Salary: $17.00 per Hour
Company: Brock & Company, Inc
Location: Annapolis, MD, USA
Description:
Cashier – Food Prep – Private School
Full-Time – Monday through Friday
6:30 AM to 1:30 PM
Benefits Eligible
Wage: $17.00 Per Hour
Brock & Company, Inc. is the premier provider of contract food management to corporations and private and independent schools throughout the Mid-Atlantic and New England. Our aim is to deliver outstanding quality food services exceeding our clients' expectations every day. With an extensive array of clients, Brock has a formula for success that is simple. We focus on top quality products combined with people who have a passion for food and service. Brock provides a family-owned, corporate supported, financially sound organization that is committed to our clients and associates and is always striving for excellence.
As a member of the Brock team, you will experience a work schedule that allows for a quality of life. Our food programs are dynamic, the menus cutting edge and creative. We welcome your input to implement, solve problems, and help drive these programs to success. You can influence the outcome, and we will give you the tools to be successful.
Job Duties and Responsibilities:
Prior experience in a high volume, fast-paced environment strongly preferred.
Operate the cash register, calculator, scale and electronic payment systems and will observe all company verbal and written procedures regarding cash handling.
Light food preparation including making grab and go items, salad bar & parfaits, coffee set up, stocking items and station maintenance.
Receive, unpack, rotate and stow deliveries per supervisor's instructions
Excellent customer service and communication skills required. This position will interact directly with customers.
Adhere to client and company protocols related to COVID-19 and workplace safety and sanitation standards.
Follow all outlined health and safety regulations with regards to equipment use and personal hygiene.
Must be able to stand for extended periods of time.
These duties may be combined with other tasks as appropriate to the unit's circumstances determined by the supervisor.
Benefits Available for Full-Time Employees
Medical, Dental & Vision
Paid Time Off
401K Plan with Company Match
Life & AD & D Insurance
Short & Long-Term Disability
Equal Opportunity Employer / Uniforms and Meals Provided / Please respond with resume or letter of intent.