September 3, 2023
Business Technical Analyst, TX , USA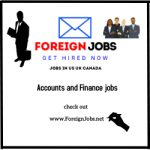 Texas A&M University-Commerce
Position: Business Technical Analyst
Industry: other
Employment: Full Time
Experience: 4 months
Qualification: Degree holder
Location: Commerce, TX (On-site), USA
Company: Texas A&M University-Commerce
Description:
APPLY HERE:
Business Technical Analyst required
Instructions to Applicant:
During the application process the
"My Experience " page has a section provided "Attachments (Resume/CV, References, Cover letter, etc.)" to upload required documents.
Use the Upload button to add each document.
You will be able to upload up to 5 documents. Be aware that the maximum size allowed for any one document is 5MB.
All documents must be electronically submitted through the Texas A&M Online Employment Services website to be considered.
Incomplete or improperly submitted applications may be excluded from consideration.
Please do not withdraw your application in an attempt to upload a missing document, instead please email HR for help.
Please Provide The Following Documents
Cover Letter
Resume/CV
Three professional references with complete contact information (Unsolicited letters of recommendation will not be considered).
Transcripts (Unofficial will be accepted with application. Official transcripts are required upon acceptance of verbal offer). If transcripts are from an international institution, it is the responsibility of the prospective staff member to have the transcripts translated and evaluated by an approved credential evaluator.
If you need assistance, please contact us at HR.Hiring@tamuc.edu
Summary
The Business Technical Analyst is responsible for serving as the primary point of contact between CITE (IT) and University Stakeholders to assist with documenting and creating business requirements/processes, configuring and programing workflows, and assisting with overall project management of Laserfiche and broader university initiatives. In addition, the BTA is to liaise with the other University Divisions in order to build rapport and promote strategic goals and objectives. The BTA will also provide technical support, end-user support, and end-user training to the University Stakeholders
Duties & Responsibilities
Assist with defining business processes and/or changes within business units/stakeholders and monitor for successful and intended outcomes.
Design high-level visual frameworks and supporting narratives of technical system integrations and/or business processes
Continuously learn about the Laserfiche system to provide the best level of support possible and trains end-user on system specifics ensuring complete knowledge transfe
Reads Laserfiche release notes and determine best course of action for application updates.
Leads implementation-based projects by planning, coordinating and ensuring project meets customer expectations and timeframe goals.
Design Forms, Business Processes, and Workflows via the University's Document Management System, Laserfiche.
Utilizes operational and system knowledge to provide recommendations for increased efficiencies and automation through workflow system.
Meets regularly with stakeholders to provide regular updates of progress, issues, and next steps.
Ability to effectively express technical information to nontechnical employees.
Maintains CITE's departmental webpages and intranet, and assists with development of knowledge articles.
Ability to work effectively both individually and within a team environment.
Develops training and documentation for end users
Liaises with client department and IT staff. Serves as a point of contact for complex questions or requests.
Assists with designs for data reporting and business intelligence systems to meet client needs.
Documents current business process and prepares business and technical requirements for new or existing individual applications or module functions.
Assists with developing test scripts for implementations
Documents test statistics, metrics, and results.
Participates in the planning and testing of system configuration and maintenance.
Minimum Requirements
Education:
Bachelor's degree in applicable field or equivalent combination of education and experience.
Experience/ Knowledge/ Skills: Four (4) months related experience. Knowledge of advanced process analysis, troubleshooting, problem solving, client relations, requirement assessment and analysis, project management methodology, context and interrelationships.
Strong interpersonal and communication skills and the ability to work effectively with a wide range of stakeholders in a diverse community. Ability to communicate with IT Professionals concerning computer or network security systems, applications, servers, procedures, and policies.
Ability to troubleshoot, diagnose, and provide solutions for hardware and software issues in a concise and timely manner.
Ability to plan, develop, and implement technical strategies and programs. Skill in examining and re-engineering operations and procedures, formulating policy, and developing and implementing new strategies and procedures.
Proficient skills with Microsoft Office software including Word, Excel, PowerPoint, and Outlook.
Ability to:
Ability to multitask and work cooperatively with others. Excellent written communication, analytical, interpersonal, and organizational skills.
Licensing/Professional Certifications: None
Physical Requirements: None
Other Requirements: None
Preferred Education/ Skills/ Experience
Knowledge of Programming Language such as HTML, CSS, JavaScript
Ability to determine computer problems and to coordinate hardware and software solutions.
Familiarity with Laserfiche Forms.
Proficiency in Information Technology Interface Library (ITIL).
Supervision Of Others
Student Workers and Graduate Assistants
All positions are security-sensitive. Applicants are subject to a criminal history investigation, and employment is contingent upon the institution's verification of credentials and/or other information required by the institution's procedures, including the completion of the criminal history check
Equal Opportunity/Affirmative Action/Veterans/Disability Employer.
We are Commerce. We are Lions!
Welcome! We are excited that you want to forge your future with a career at Texas A&M University-Commerce.
Our main campus is located in Commerce, Texas, at the eastern edge of North Texas with multiple instructional sites as well as a robust online presence.
We are proud to be one of the largest universities in the prestigious Texas A&M University System.
Since 1889 A&M-Commerce has educated the people of Texas and, ever increasingly, points beyond. We remain true to our founder William Leonidas Mayo's creed of "ceaseless industry, fearless investigation, unfettered thought, and unselfish service to others."
Texas A&M University-Commerce is committed to and promotes equal opportunity for all. This commitment includes equal employment opportunity, affirmative action, and program accessibility. It is also committed to make its workplaces, campuses, and programs accessible to all, without regard to race, color, religion, sex, national origin, disability, age, veteran status, genetic information, sexual orientation or gender identity.
Furthermore, we encourage and foster a workplace community where individuals are valued for their diverse backgrounds.
Texas A&M University-Commerce is an Equal Opportunity/Affirmative Action/Veterans/Disability Employer.