July 17, 2023
Business Development Manager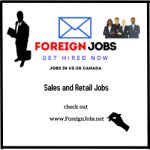 Position: Business Development Manager
Industry: other
Employment: Full Time
Experience: 10 year
Qualification: Degree Holder
Location: Nationwide, US
Company: TRANZEAL
Description:
APPLY HERE:
Job Title: Business Development Manager – Unleash Your Potential!
Location: California, Dallas, Chicago, NYC, NJ (or anywhere in the US)
Employment Type: Full-time, Permanent Opportunity
Are you an experienced and results-driven Business Development Manager? Do you thrive on expanding brands, building high-performing teams, and exceeding sales goals? If so, we have an exciting opportunity for you to join our dynamic team at Tranzeal!
As a Business Development Manager, you will play a pivotal role in driving the expansion of the Tranzeal brand across the United States. Your primary focus will be on leveraging your existing network, prospecting for new clients, and identifying their technology needs to propose innovative and tailored solutions. We are seeking individuals who are passionate about IT staffing sales and possess a relentless drive to succeed.
Responsibilities:
Aggressively drive the expansion of the Tranzeal brand across the US, targeting both existing and new clients.
Qualifications:
Minimum of 5-8 years of sales management experience in companies selling IT Staffing to mid-to-large companies is a must.
Minimum of 10 years of experience in the IT staffing industry is required, demonstrating a deep understanding of the market dynamics.
A proven track record of building high-performing sales teams that consistently exceed sales goals and objectives, driving revenue growth and market expansion.
Outstanding communication and presentation skills, with the ability to confidently engage and influence stakeholders at the executive level.
Relentless focus on building the Tranzeal IT Staffing sales business, coupled with an entrepreneurial mind-set and a passion for success.
If you are a motivated self-starter with a burning desire to optimize supply chain operations and make a significant impact, we want to hear from you! Join our talented team at Tranzeal and contribute to our ongoing success as a leader in the IT staffing industry.