November 4, 2023
Bookkeeper Walnut Creek OH USA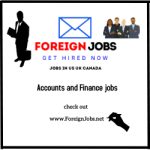 Position Bookkeeper
Industry: other
Employment type: Full Time
Experience: 2 to 4 year
Qualification: Diploma/Degree
Company: Carlisle Gifts
Location: Walnut Creek, OH, USA
Description:
Bookeeper required
Carlisle Gifts in Walnut Creek is a great place to start or develop your career in hospitality to learn skills you'll use for the rest of your life. If you enjoy sharing hospitality with others, we want you on our team!
Pay: Commensurate with experience
Our team members enjoy: Sundays off DHG Discounts – on meals/merchandise/lodging/shows for staff Annual vacation bonus Wooden Nickels On-the-job training Flexible schedules Scholarship program Free access to Smart Dollar® What you'll be doing Reconcile cash drawers with variance review, analysis and bank deposit
Post daily sales totals in Excel Sales journal
Enter accounts payable invoices and house account deposits
Reconcile daily credit and gift card transactions to POS and Bank
Prepare locations bi-weekly payroll
Prepare month-end reports for processing by corporate office Assist with inventory count Scheduled on Sales Floor, as necessary
Skills you'll bring along Excellent attention to detail
Excellent verbal & written communication skills
Active problem solver
2 – 4 years' experience with accounts payable and payroll preferred Experience using the Excel program a plus Pay: Commensurate with experience Job Type Full time position Work rotating schedules including some evenings, weekends and holidays Position requires sitting for extended periods of time.
Reaching overheard and below the knees, including bending, twisting, pulling, and stooping
Benefits Medical insurance and HSA401(k) plan with match Wellness ProgramDental, Vision, Accident, Life, Critical Illness, Term Life Insurance available PandoLogic.