October 16, 2023
Bookkeeper Staff Accountant San Jose CA USA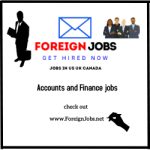 MHTB Accountancy Group of Silicon Valley
Position: Bookkeeper Staff Accountant
Industry: Other
Employment: Full Time
Experience: 3 to 5 Year
Qualification: Degree Holder
Location: San Jose, CA, USA
Company: MHTB Accountancy Group of Silicon Valley
Description:
APPLY HERE:
Bookkeeper Staff Accountant
Job Description
We are currently seeking candidates to who are ready to shape their accounting careers and make firm-wide contributions. Our staff is top-notch and we have outstanding partners who have a wealth of knowledge in Litigation, Tax, Auditing, Estates & Trusts, and many other areas.
Everyone works hard, but it doesn't go unnoticed. We offer excellent PTO and Comp time benefits coupled with Friday BBQ's, Matinee Day's, Paint Day's, Taco Day's, and many other activities. We have an outstanding Firm Administrator who knows how to value our employees so they continue to grow within the Firm and enjoy doing it.
Job Description: Bookkeeper – Tax
This role will be responsible for a full array of bookkeeping and tax services. They will possess an understanding of accounting principles and develop professional relationships that contribute to exceptional client service. The successful staff accountant will effectively manage their time and deliverables, while taking ownership of assignments and accepting responsibility for work product.
Essential Functions
Maintain client general ledger for both cash basis and accrual basis clients.
Communications (both verbal and written form) with clients.
Prepares appropriate schedules and reports as requested by clients and supervisors.
Reconciles cash and credit card accounts to general ledger.
Generates 1099's and W-2's for clients.
Prepares sales tax returns, and personal property tax returns.
1040 Tax return preparation.
E-Filing tax returns.
Performs other duties as assigned from time to time by accountants or partners.
Education, Experience, And Skills Required
3-5 years responsible accounting and bookkeeping experience including tax preparation, payroll, general ledger and financial reports.
Possess a positive and upbeat personality and have strong interpersonal skills with a willingness to communicate with clients, colleagues, and management.
Ability to demonstrate an understanding of intermediate accounting concepts.
Ability to work independently with little or no daily supervision.
Ability to work on multiple projects with different objectives simultaneously and be flexible with job responsibilities.
Good time management skills, including prioritizing, scheduling, and adapting as necessary.
Strong attention to detail and good organizational skills.
Must be able to keep client matters strictly confidential.
Proficiency with computers, and software such as QuickBooks, QBO, Lacerte, Microsoft Word, Excel, Outlook, as well as the ability to learn new software.
Our firm offers its employees competitive compensation, benefits/medical/dental/vision, group life insurance, continuing professional education, vacation/sick time, performance bonus based on a percentage of salary, and the opportunity to participate in our 401(k) plan.
About our firm:
MHTB Accountancy Group of Silicon Valley has served the Bay Area for nearly 50 years. As a mid-sized CPA firm, we are large enough to provide comprehensive services and small enough to give personal attention to our clients. For more information, ,