August 29, 2023
Billing Clerk, San Rafael, CA, USA
Full Time
$25/hr - $35/hr USD / Hour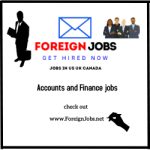 Position: Billing Clerk
Industry: Automotive
Employment type: Full Time
Experience: 2 years
Qualification: Degree holder
Salary: $25/hr – $35/hr
Location: San Rafael, CA (On-site), US
Company: indiGO Auto Group
Description:
Billing Clerk – Automotive
About the job
IndiGO Auto Group is a globally recognized and award-winning company with an unparalleled dedication to outstanding customer care and operational excellence. indiGO Auto Group is an industry thought leader representing 24 timelessly modern franchised dealerships in seven US markets, including Houston, TX, Rancho Mirage, CA, Palm Springs, CA, Riverside, CA, Marin, CA, Redwood City, CA, St. Louis, MO, and most recently San Francisco, CA.
IndiGO represents the very best in automotive brands: Aston Martin, Audi, Bentley, BMW, Ferrari, Jaguar, Lamborghini, Land Rover, McLaren, Porsche, Rolls-Royce, Rimac, and Volkswagen. We are always looking for bright, motivated, and energetic professionals to add to our world-class team. Each of our dealerships work as a team, and our team strives to be the best for our customers. indiGO is proud to represent the best in luxury automotive brands as well the best people – come and join us today!
What We Are Looking For
IndiGO Auto Group is seeking a full-time Billing Clerk to join our Audi Marin team. This is a great opportunity to work for an exciting company in a fast-paced environment.
This Is What We Offer
Opportunity to work in a cohesive and supportive team environment
Comprehensive insurance plans – medical, dental, vision, life insurance, health savings account, and flexible savings account
401(k) plus match
Unlimited professional training opportunities
Paid vacation days, sick days, and holidays
Opportunity for advancement in a growing company
Brand new, state-of-the-art facilities and equipment
Here is what an ordinary day of work may look like:
Post into accounting all new + pre-owned car deals.
Receipt all monies received for new + pre- owned car deals.
Organize all paperwork in each deal for completeness and compliance.
Process payoff checks for trade-ins and mail to appropriate banks.
Process and maintain salesperson commission reports.
Process all new + used vehicle for registration in the state in which they will be titled.
Verify all funds have been collected and the correct lienholder paid off before processing tittle.
Check for accuracy in the application to ensure all information is complete.
Complies + maintain a complete list of outstanding tittle work.
Stay up to date on tittle regulations.
Attend seminars.
Crosstrain others to handle tittle work.
Maintain a professional appearance and a neat work area.
Provides support to management staff.
Any other duties as assigned by supervisor.
The Opportunity Is For You If You Have
At least 2 years of administrative experience in the automotive industry required
At least 2 years of dealership Contract Billing and Titling (DMV) experience required
Previous customer service, collection, or accounting experience
CDK / ADP Experience preferred
Extremely organized with dedicated attention to detail
Self-motivated and dependable
Willing to submit to a drug test and criminal background check
Pay range for this role is: $25.00 – $35.00 per hour
This job description in no way implies that the duties listed here are the only ones the employee may be required to perform. The employee is expected to perform other tasks, duties, and training as dictated by their supervisors.
indiGO Auto Group is an equal opportunity employer, free from discrimination and harassment of any type without regard to race, color, religion, age, sex, national origin, disability status, genetics, protected veteran status, sexual orientation, gender identity, or expression, or any other characteristic protected by federal, state or local laws. This policy applies to all terms and conditions of employment, including but not limited to recruiting, hiring, advancement, termination, layoff, transfer, leaves of absence, compensation, and training.