July 27, 2023
Assistant Housekeeping Supervisor 1
Full Time
$44,435 -$62,404 USD / Year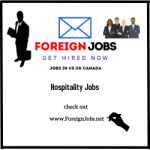 Montclair State University
Position: Assistant Housekeeping Supervisor 1
Industry: Education
Employment type: Full Time
Experience: 2 years
Qualification: Degree/Diploma
Salary: $44,435 -$62,404 per year
Location: Montclair, NJ, US
Company: Montclair State University
Description:
APPLY HERE
Assistant Housekeeping Supervisor 1 (Multiple Positions)
Montclair State University · Montclair, NJ
About the job
Important Application Instructions
Upload Resume or Curriculum Vitae for automatic population of information to the application.
The contact information, work experience, and education listed on your Resume/CV will be parsed and input into your Montclair application.
Review information and double-check all fields containing information that the system parsed – the software is intelligent, but you need to verify that the data is accurate.
In the My Experience section, you will find a Resume/CV upload option where you can submit your cover letter and all other supporting documents.
Note: If you have an expansive CV, we recommend that you apply manually and only include the positions you have held in the last ten (10) years. You will then be able to attach your Resume/CV, as well as all other supporting documentation in the "My Experience" section of your application.
Summary
Job Description
Under the direction of an Assistant Director of Building Services, the Assistant Housekeeping Supervisor 1 organizes and supervises a staff of Building Maintenance Workers in the completion of the Housekeeping Program and provides first-rate service.
Principal Duties and Responsibilities
Conducts inspections of buildings, offices and other areas to note significant conditions and sees that needed work is done.
Provides assignments to Building Maintenance Workers and/or other Housekeeping employees and supervises the performance of their work.
Prepares the employee performance evaluations.
Supervises the work operations and functional programs of the department, and makes recommendations in the discipline of employees.
Responsible for approving Kronos time cards on a bi-weekly basis.
Maintain, manage and close work orders using the Maximo software.
Capable of utilizing Cornerstone for online trainings.
Satisfies customer requests for housekeeping tasks.
Completes oral and written reports.
Assists with the maintenance of essential housekeeping records and files, including personnel timekeeping and service records.
Will be required to use the housekeeping/facilities software management program.
Follows all OSHA safety regulations, Blood Borne Pathogens guidelines, and Fire Safety, university and department policies.
Will report maintenance deficiencies and generate the necessary work orders to correct the situations. Closes work orders when work has been completed.
Will communicate with supervisor/director on any concerns pertaining to the effectiveness and efficiency of implementing their housekeeping duties.
Through one on one discussions, supervisors' meeting, memos, e-mails, the supervisor communicates his ideas, thoughts, or concerns on how the department is performing.
Will communicate with employees through regularly scheduled meetings.
Trains new employees in proper cleaning procedures and use of cleaning equipment.
Responds to emergencies in a timely and professional manner.
Provides information to the customer regarding work order status. Follow-up with the customer after the work is completed.
Attend training sessions as assigned relating to housekeeping methods/equipment use, Supervisory Training, interpersonal communication and teamwork.
Be willing to assist and share knowledge and experience with others to provide full and accurate information when turning over a job to another employee.
At the end of the shift, communicated any issues to the next shift supervisor.
May be asked, on occasion, to oversee Crew Supervisors.
Knowledge of methods used in inspecting wards and other areas from the point of view of housekeeping maintenance standards and general order, safety and sanitation.
Ability to lift 20-25 pounds and climb a 6 foot ladder. Knowledge of cleaning techniques and proper use of floor care equipment.
Performs related duties as required.
Qualifications
REQUIRED:
A minimum of two (2) years of housekeeping experience in a large, complex institution is preferred, including at least one (1) year of supervisory experience in work connecting with housekeeping, sanitation and maintenance services.
Appointees will be required to possess a driver's license valid in New Jersey only if the operation of a vehicle, rather than employee mobility, is necessary to perform the essential duties of the position.
Must have the ability to read, write, speak understand and communicate in English sufficiently to perform the duties of the position.
Must be available to work all shifts, overtime and holidays.
Preferred
Has demonstrated experience with direct involvement in employee assessments, training and processing work orders within the past year.
This position is designated as essential. The designation of essential requires employees at these 24/7 facilities to be present due to inclement weather situations. This position requires on campus work and is not a position that allows remote work.
R15:
Salary Note: Salaries for internal candidates are determined by the New Jersey Civil Service Commission's formula. Salaries for external candidates are determined up to step four $50,425.06.