August 1, 2023
Administrative Specialist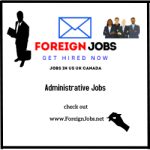 Position Administrative Specialist
Industry: other
Employment type: Full Time
Experience: 2 year
Qualification: Degree holder
Company: SEARCH
Location: Jacksonville, FL (On-site)
Description
Administrative Specialist
About the job
SEARCH has an immediate opening for a full time Administrative Specialist to join our team. The position will be responsible for SEARCH's Jacksonville office administrative day-to-day activities. Candidates must be able to work independently as well as on teams, be detail-oriented and organized, and able to work competently on simultaneous tasks while meeting multiple deadlines.
The position is nonexempt and based in Jacksonville, Florida. No relocation expenses will be offered for this position.
Our Mission
We SEARCH…overland, underwater, and into the unknown, to harness the power of the past. (And every now and then, we discover something extraordinary.)
About Us
Overland and underwater, SEARCH is an archaeology firm that deploys the full spectrum of cultural heritage services worldwide. SEARCH2O, our maritime program, is at the forefront of historic shipwreck and submerged pre-contact archaeology, paleolandscape reconstruction, and deep-water archaeology. Our staff are cultural resource industry leaders, pioneers, and subject matter experts across 45 Market, Regional, and Research Sectors. Since 1993, we have completed more than 4,500 commercial and government projects in 48 US states, 6 US territories, and 36 countries spanning 7 continents and 4 oceans. By integrating science, technology, and creativity, we harness the power of the past to advance the projects, places, and people we serve.
For more information about SEARCH, please visit www.searchinc.com and follow us on Facebook, Instagram, and LinkedIn
Essential Duties and Functions
Answer all incoming call.
Provide expense accounting support
Meeting coordination and scheduling
Schedule outgoing shipments via USPS, FedEx, and UP.
Maintain client contact information.
Compile report material for shipment to client and to the State (Florida Division of Historical Resources)
Serve as new local hire point of contact, updating and maintaining internal contact lists
Point of contact for office equipment services, vendors and repair people
Responsible for ordering office supplies and ensuring that supplies are stocked
Provide assistance to the Travel Booking team.
Other duties as assigned
Other Important Need-to-Know Information
To Apply:
In Word or as a PDF, please send a cover letter with a description of your administrative experience which also lists a minimum of two professional references, your resume/CV, and dates of your availability. SEARCH will contact professional references and treat all employment inquires with discretion.
Candidates must be eligible to work in the United States. The chosen candidate will be required to successfully complete a pre-employment drug test and a criminal background check, including DMV.
For more information on SEARCH, please visit www.searchinc.com and follow us on Facebook or Instagram.
SEARCH is strongly committed to creating a diverse and inclusive environment where a variety of backgrounds, cultures, orientations, ideas, and talents can flourish.
SEARCH is an equal opportunity employer, and all qualified applicants will receive consideration for employment without regard to race, color, religion, sex, national origin, disability status, protected veteran status, or any other characteristic protected by law.
SEARCH is an Affirmative Action Employer and a Drug-Free Workplace.
Requirements
Bachelor Degree in Business Administration, or related field preferred
2 or more years' experience in an administrative setting supporting a marketing or operations function
Proficiency with Microsoft Office (Outlook, Excel, Word, and PowerPoint)
Experience with cloud-based CRM software for small businesses
Experience with Concur preferred.
Ability to multi-task on several different projects, independently and as a team, while remaining flexible and servicing both internal and external clients
Customer service focus with the ability to maintain confidentiality and utilize sound independent judgment and discretion
Attention to detail in work
Excellent communication skills, both written and verbal, with the ability to demonstrate tact and diplomacy
Benefits
SEARCH Compensation and Benefits include:
Competitive Salary
Per Diem (for overnight travel)
SEARCH-subsidized Group Health Insurance (including Medical, Dental, and Vision coverage)
SEARCH-provided Short-Term Disability Insurance
SEARCH-provided Long-Term Disability Insurance
SEARCH-provided Group Term Life Insurance
Voluntary Life Insurance
Employee Assistance Program
Emergency Travel Assistance
Generous 401(k) Retirement Plan
Paid Holidays (10)
Paid Time Off (PTO)
Merit-Based Raises, Bonuses, and Promotions