July 18, 2023
Full Time
$3,145 to $4,174 USD / Month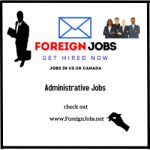 Washington State University
Position Administrative Assistant
Industry: Education
Employment type: Full Time
Experience: 2 to 5 year
Qualification: Degree Holder
Salary: $3,145 to $4,174 per month
Location: Spokane, WA, US
Company: Washington State University
Description:
Administrative Assistant required
About the job
Available Title(s)
105F-YN_CS_NPS – Administrative Assistant 2
Business Title
Administrative Assistant | Office of Faculty Affairs and Continuing Professional Development
Summary of Duties:
The Administrative Assistant for the Office of Faculty Affairs and Continuing Professional Development (FACPD) will oversee and provide a wide range of diverse high-level administrative support to the Associate Dean for Faculty Affairs and Continuing Professional Development (ADFACPD), the Assistant Dean for Faculty Affairs, and to the Faculty Development and Continuing Medical Education Units.
The role serves as the liaison for both internal and external constituents concerning matters pertaining to a variety of departmental issues, on complex, sensitive and confidential issues. Manages day to day office support activities and maintains financial and office records. The Administrative Assistant may represent the ADFADCP and the Assistant Dean for Faculty Affairs on matters which require a high degree of tact, diplomacy, and confidentiality.
Essential Job Functions
45% Administrative Support
30% Operational Oversight
20% Special Projects
5% Other
Required Qualifications
One year of experience as an Administrative Assistant 1 OR a Bachelor's degree in business administration, public administration, or closely allied field and two years of responsible office experience at the senior clerical level or higher. Clerical or office work experience may be substituted for education on a year-for-year basis. Graduate study may substitute for experience on a year for year basis.
Additional Requirements
Demonstrated commitment and success working with people from diverse backgrounds and in professional environments.
Computer software skills, including the ability to use MS Office software, such as databases, spreadsheets, word processing, and presentation software, specifically facility with MS Word and Excel.
Preferred Qualifications
Bachelor's degree
Experience assisting in planning and coordinating conferences, events, workshops etc.
Demonstrated experience in handling confidential and sensitive information
Experience providing administrative support to an individual or group of individuals at the executive, senior leadership, director, or manager level
Demonstrated working knowledge of policies and procedures in a complex academic institution or similar complex organization.
Additional Information
Area/College: Elson S. Floyd College of Medicine
Department Name: Office of Faculty Development
City, State, Zip: Spokane, WA 99202
Monthly Salary: Range 37, $3,145 to $4,174, Step A-M
Successful candidates typically begin at the beginning of the salary range and receive scheduled salary increment increases in accordance with WAC 357-28. Step M is typically a longevity step.
WSU offers a comprehensive benefits package which includes: paid sick and vacation leave; paid holidays; medical, dental, life and disability insurance package for employees and dependents; retirement; deferred compensation and optional supplemental retirement accounts.
Overtime Eligibility: Eligible
FTE: 100%
This is a Permanent position.