October 7, 2023
Administrative Assistant Mentor OH USA
Full Time
$24/hr USD / Hour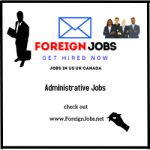 Position: Administrative Assistant
Industry: Other
Employment: Part-time
Experience: 3 to 5 year
Qualification: Degree holder
Salary: $24/hr
Location: Mentor, OH, USA
Company: Innova Solutions
Description:
Innova Solutions is immediately hiring for an Administrative Assistant
Position type: Part-time Contract
Duration: 6 months
Location: 8080 Norton Parkway Mentor OH, 44060. Hybrid option available
As a(n) Administrative Assistantyou will:
Provide administrative support to the Global Trade Management team based in Mentor, Ohio.
Perform general clerical tasks to ensure smooth operation of the office
Run reports for analysts to aid in their research and analysis tasks.
Assist with various projects as needed, demonstrating flexibility and adaptability in tasks undertaken.
Collaborate with team members to ensure efficient workflow within the Global Trade Management department.
Maintain organized records and files, ensuring easy accessibility for team members.
Assist in scheduling meetings, coordinating travel arrangements, and managing team calendars.
Handle routine correspondence and communication on behalf of the Global Trade Management team.
Contribute to the overall efficiency and effectiveness of the team by providing administrative support as required.
The ideal candidate will have:
Proficient in collaborative data entry techniques.
Expertise in working with Excel, including creating and analyzing data using pivot tables.
Proficient in Microsoft Office suite, including Word, PowerPoint, and Outlook.
Strong interpersonal skills to effectively communicate and collaborate with team members and stakeholders.
Attention to detail and accuracy in data entry tasks.
Ability to work efficiently in a collaborative team environment, ensuring seamless data sharing and coordination.
Familiarity with data management best practices and techniques.
Capability to handle large datasets and perform data validation procedures.
Strong organizational skills to manage and prioritize data entry tasks effectively.
Willingness to adapt and learn new tools and technologies related to data entry and analysis.
Qualified candidates should APPLY NOW for immediate consideration! Please hit APPLY to provide the required information, and we will be back in touch as soon as possible.
PAY RANGE AND BENEFITS:
Pay Range*: $24.00 per hour
Pay range offered to a successful candidate will be based on several factors, including the candidate's education, work experience, work location, specific job duties, certifications, etc.
Benefits: Innova Solutions offers benefits( based on eligibility) that include the following: Medical & pharmacy coverage, Dental/vision insurance, 401(k), Health saving account (HSA) and Flexible spending account (FSA), Life Insurance, Pet Insurance, Short term and Long term Disability, Accident & Critical illness coverage, Pre-paid legal & ID theft protection, Sick time, and other types of paid leaves (as required by law), Employee Assistance Program (EAP).
ABOUT INNOVA SOLUTIONS: Founded in 1998 and headquartered in Atlanta, Georgia, Innova Solutions employs approximately 50,000 professionals worldwide and reports an annual revenue approaching $3 Billion. Through our global delivery centers across North America, Asia, and Europe, we deliver strategic technology and business transformation solutions to our clients, enabling them to operate as leaders within their fields.