September 5, 2023
Administrative Assistant, CO, USA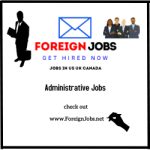 Triangle Fastener Corporation
Position: Administrative Assistant
Industry: construction
Employment type: Full Time
Experience: 3 to 5 year
Qualification: Degree Holder
Company: Triangle Fastener Corporation
Location: Loveland, CO (On-site), USA
Description
Administrative Assistant
Job Description
Triangle Fastener Corporation is a fast-growing wholesale distributor that has been serving the construction industry in the US and beyond since 1977. We are currently seeking a full time Administrative Assistant to join us at our office in Loveland, Colorado. This position is ideal for an ambitious individual who can thrive in a fast-paced environment while working in collaboration with supportive and knowledgeable professionals.
As a Triangle Fastener Corporation employee, you can expect a team-oriented environment with plenty of benefits such as:
Excellent Medical, Dental, Vision, and Voluntary Supplemental Insurance
Paid vacation days, paid personal days, and immediate eligibility for Paid Holidays
Company funded disability and life insurance
Consistent employer contribution to 401k
Duties and Responsibilities
Communicating with corporate office regarding payables and receivables
Reviewing reports for discrepancies and correcting them
Assisting inside sales team and providing a great customer service experience
Assisting outside sales team with sales orders, warehouse transfers, returns, and corrections
Invoicing
Maintain office supplies
Monitoring incoming messages and calls
Data Entry, Filing, other basic administrative tasks
Ideal Candidates must have:
Previous experience in a similar role
Demonstrated ability to effectively communicate with a broad range of industry clients
A knack for problem solving and openness to new ideas
Essential computer, data entry, written communication, and mathematical skills
If selected, candidates must successfully meet all employment requirements including a favorable background check and pre-employment drug screen.