July 31, 2023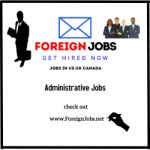 University of Miami Health System
Position: Administrative Assistant
Industry: Education/health
Employment: Full Time
Experience:
Qualification:
Salary:
Location: Coral Gables, FL (On-site), US
Company: University of Miami Health System
Description:
APPLY HERE:
Administrative Assistant
If you are a current Staff, Faculty or Temporary employee at the University of Miami, please click here to log in to Workday to use the internal application process. To learn how to apply for a faculty or staff position using the Career worklet, please review this tip sheet.
University of Miami School of Law
Position Description
Administrative Assistant – Faculty Support
Position Summary
The Administrative Assistant serves as faculty support for Law School Professors, Adjunct Professors, Visiting Professors, reporting to the Office Manager and the Law School HR Director. Employees in this position should be detail oriented, have excellent communication and organizational skills, and be able to multi-task. This position provides coverage for other Administrative Assistants during absences or as directed by the Office Manager and/or the HR Director.
Primary Duties And Responsibilities
Supports six to nine full-time faculty, adjunct faculty, plus visiting professors, as assigned, exercising a high degree of resourcefulness, independent judgment, initiative and professional knowledge of the Law School and its departments; working with highly confidential materials; meeting deadlines; retrieving and distributing faculty mail.
Will have knowledge of zoom meeting features and technology in order to provide support to Faculty in classroom teachings; and as well as providing support to students that may encounter issues.
Will be responsible for processing reimbursement(s) for Faculty in regards to travel, due & membership, events, and other reimbursements as necessary via Workday.
Completes assignments requiring the collection and organization of data; may provide analysis. Example: Creates reports in regards to Faculty instructions of the various titled assignments submitted by students. The Administrative Assistant is responsible for collecting the information, separate and input data according to Professor's specification. The Administrative Assistant also maintains reports on student class participation and assignments and provides final breakdown for grading purposes.
Prepare class material packets to include syllabus and additional reading materials/handouts; collect and record student assignments; manage course and personal files.
Coordinate with the Law Library regarding reference requests; retrieve cases and articles online through WESTLAW reference system; maintain class course pages online via BLACKBOARD and TWEN.
Create seating charts using student's photos to compose a replica of classrooms; reserve rooms for meetings; communicate and collaborate with numerous high-level offices and officials on and off campus in a professional manner.
Must have PROFICIENT/ADVANCED experience in WORD including mail merge, pagination, tracking, and knowledge of citation features in WORD. Excellent and advanced knowledge in Excel as the examination process requires creating spreadsheets for grading purposes.
Serve as liaison between faculty and students, receiving and answering student questions, relaying faculty and student communications verbally or via email, and setting appointments with faculty.
Exercise the highest level of confidentiality and security measures relating to final and mid-term examinations by typing, proofing, copying (Copy Center) and delivering exams to the Registrar; retrieve exams when finished to reconcile exams by anonymous grading numbers; assist professors with final grades; schedule student appointments for exam reviews.
Create and log student's absences through Excel spreadsheet to monitor and reconcile class attendance (as per the Professor's absence guidelines)
Serves as a primary information resource regarding assigned faculty; plan, prepare and coordinate materials for events such as workshops and symposiums, as directed by assigned faculty, Assistant works in conjunction with the Events Office, who secures meeting location, catering, audio visual and any other logistics related to event.
Responsible for correspondences; prepare Clerkship letter of recommendations for students through the online OSCAR system by uploading and submitting letters to multiple judges for consideration of law clerk employment; type and edit scholarly publications, articles and books.
Update and maintain mailing lists; conducting large mailings such as reprints, newsletters, invitations; conduct mail shipping through FedEx or U.S. Mail; and may lead the work assignment of student workers.
Monitor and respond to faculty and student emails; produce a high volume of printing and photocopying, faxes and scanning; transcribe faculty tapes.
Coordinate travel arrangements online; prepare and submit reimbursements; complete check requisitions and purchase orders electronically through the University's Workday system.
Display excellent customer service when greeting visitors/students, handling inquires.
Maintain faculty calendar as needed; provides routine and general clerical support as needed to faculty; answers telephone calls, takes messages, answer routine questions, and transfer calls to appropriate individuals.
Contact publishers to order desk copies, supplements and teacher's manuals for faculty as needed; place textbook order for courses.
Provide support to Faculty with external and internal committees; prepare materials for meetings, arrange meetings.
Maintain and update Faculty on-line profiles through our Digital Measures platform. Upload and/or update new/existing Faculty information – i.e. current CV, lectures, conferences, scholarly work (Journal, Conferences, Speaking Engagements, articles, etc.)
Education/Work Experience Requirements
High school diploma and three years' work related experience. Excellent customer service skills (written and verbal); ability to multi-task various tasks/projects.
Knowledge, Skills, Abilities
Knowledge of MS suite (WORD, EXCEL, POWERPOINT), Outlook, Internet Research. Experience w/ Blue Book citations and ability to understand the citation features in WORD
Transcribing experience a plus knowledge of routine office practices and procedures.
Knowledge of simple data processing and transmission principles.
Ability to utilize computerized information systems.
Ability to read and decipher data on source documents to be entered.
Ability to enter and verify information with accuracy and a reasonable rate of speed.
Ability to understand and follow oral and written instructions
The University of Miami is an Equal Opportunity Employer – Females/Minorities/Protected Veterans/Individuals with Disabilities are encouraged to apply. Applicants and employees are protected from discrimination based on certain categories protected by Federal law. Click here for additional information.