August 22, 2023
Administrative Assistant, Columbus, OH (On-site), US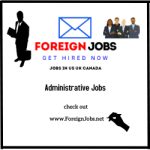 The Ohio State University Wexner Medical Center
Position: Administrative Assistant
Industry: Education
Employment: Full Time
Experience: 2 to 4 year
Qualification: Degree Holder
Location: Columbus, OH (On-site), US
Company: The Ohio State University Wexner Medical Center
Description:
Administrative Assistant
About the job
If you are currently employed or enrolled as a student at The Ohio State University, please log in to Workday to use the internal application process.
In Order To Ensure Your Application Is Complete, You Must Complete The Following
Welcome to The Ohio State University's career site. We invite you to apply to positions of interest.
Ensure you have all necessary documents available when starting the application process. You can review the additional job description section on postings for documents that may be required.
Prior to submitting your application, please review and update (if necessary) the information in your candidate profile as it will transfer to your application.
Job Title
Administrative Assistant
Department
Medicine | School Biomedicine Science Physiology and Cell Biology
Serve as Administrative Lab Coordinator within the Department of Physiology and Cell Biology performs a variety of administrative and secretarial tasks to assigned faculty, administrators, and programs in support of academic and research missions; coordinates and maintains appointment calendars; schedules and coordinates meetings, conferences, educational programs, and special events including logistics; attends and records minutes of meetings; transcribes and distributes meeting records; makes national and international travel and lodging arrangements; collects receipts, prepares requests for, and tracks reimbursement of expenses; drafts and prepares correspondence; prepares reports, tables, and slides for presentations; assists with preparation of grant applications, manuscripts, and research reports; assists faculty with preparation of credentialing and promotion & tenure documents; updates CV (curriculum vitae); answers inquiries; serves as liaison for faculty, staff, investigators, administration, and external customers and organizations; opens, screens and distributes mail; establishes and maintains files; performs other duties as assigned.
Minimum Education and Skills/Experience Required/Desired
High School diploma or GED. Certification or vocational training may be preferred. 1 year of relevant experience required. 2-4 years of relevant experience preferred. Per CCS Specifications; six months experience (600 hours training) using computers to generate a variety of materials ranging from basic to complex; six months experience (600 hours course work) in office practices and procedures; six months experience (600 hours course work) in customer service. Requires successful completion of a background check. Selected candidate may be asked to complete a re-employment physical including a drug screen.
Function: Business Planning and Operations
Sub-function: Administrative Assistance T2
Additional Information
Final candidates are subject to successful completion of a background check. A drug screen or physical may be required during the post offer process.
Thank you for your interest in positions at The Ohio State University and Wexner Medical Center. Once you have applied, the most updated information on the status of your application can be found by visiting the Candidate Home section of this site. Please view your submitted applications by logging in and reviewing your status. For answers to additional questions please review the frequently asked questions.
The Ohio State University is an equal opportunity employer.
All qualified applicants will receive consideration for employment without regard to age, ancestry, color, disability, ethnicity, gender identity or expression, genetic information, HIV/AIDS status, military status, national origin, race, religion, sex, gender, sexual orientation, pregnancy, protected veteran status, or any other basis under the law
Applicants are encouraged to complete and submit the Equal Employment Identification form.