July 20, 2023
Accounts Payable Coordinator
Full Time
$42,000/ to $55,000/ USD / Year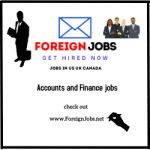 Position: Accounts Payable Coordinator
Industry: Education
Employment: Full Time
Experience: 3 to 5 year
Qualification: Degree Holder
Salary: USD $42,000/yr – $55,000/yr
Location: Stony Brook, NY (On-site), US
Company: Binghamton University
Description:
Accounts Payable Coordinator required
Required Qualifications (as Evidenced By an Attached Resume)
High School Diploma/GED or Associate's degree (foreign equivalent or higher). Four (4) years of full-time experience in accounts payable, accounts receivable or related field.
Preferred Qualifications
Bachelor's degree (foreign equivalent or higher) in Accounting, Finance or related field. Experience with credit card transactions management and reconciliation. IRS 1099 and 1042S tax transactions review and reporting experience.
Brief Description of Duties:
The Stony Brook Foundation (SBF) seeks a motivated self-starter for its Accounts Payable team. The selected candidate will have the ability to work independently in a high-volume deadline driven environment. They will also need to effectively and professionally communicate with faculty, staff, and external vendors in order to complete assignments. This position requires both excellent communications and strong math skills. Duties will include:-
Review Stony Brook Foundation payments, including travel vouchers, payment requisitions and purchase orders for pertinent and required information, funding, GL Class codes and supporting documentation. Determine appropriateness of each expenditure as it relates to its respective purpose of account to ensure that payment requests are in compliance with account purpose, donor intent, disbursement policy and procedures and current IRS regulations. Efficiently batch paperwork to prepare payment for input into Oracle/PeopleSoft Accounting System. Effectively input payments with recurring batch reconciliation to ensure accurate payment balances. Special attention must be paid to data input in order to ensure payment accuracy.-
Review, audit and reconcile monthly Foundation Corporate Card transactions to ensure that procurement transactions are in compliance with disbursement guidelines. Obtain cardholder's receipts, supporting justification and supervisor's approval on a timely basis. Reclass each transaction according to functional expense accounting guidelines as required. Strict adherence to the reconciliation and reclass process is required on a monthly basis. Utilize Excel spreadsheets, using macros to maintain, organize and reconcile credit card transaction data for approximately 100 card holders. Prepare monthly spreadsheets to be uploaded to Oracle (PeopleSoft).
Review, audit and reconcile Foundation 1099 payments transactions based on IRS regulations and accounting principals. Utilize Excel spreadsheets using pivot tables to review data and determine transaction corrections that need to be made. Close attention must be paid to ensure proper IRS 1099 and 1042 reporting and withholding.-
Query, analyze and regularly review Foundation reports related to all payment processes including, but not limited to, budget exceptions, unposted vouchers, unposted payments, payments on hold, recycled vouchers, etc.-
Obtain administrative authorization on payments from various campus administrators. Communicate with various campus departments, administrators, and vendors to obtain appropriate documentation needed to complete payments on a daily basis.-
Other duties as assigned
Special Notes
The Research Foundation of SUNY is a private educational corporation. Employment is subject to the Research Foundation policies and procedures, sponsor guidelines and the availability of funding. This is a full-time appointment. FLSA Non Exempt position, eligible for the overtime provisions of the FLSA.
For this position, we are unable to sponsor candidates for work visas.
Resume/CV and cover letter should be included with the online application.
Stony Brook University is committed to excellence in diversity and the creation of an inclusive learning, and working environment. All qualified applicants will receive consideration for employment without regard to race, color, national origin, religion, sex, pregnancy, familial status, sexual orientation, gender identity or expression, age, disability, genetic information, veteran status and all other protected classes under federal or state laws.
In accordance with the Title II Crime Awareness and Security Act a copy of our crime statistics can be viewed.