October 16, 2023
Accounts Payable Clerk Lookout Mountain GA USA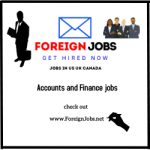 Position: Accounts Payable Clerk
Industry: other
Employment: Full Time
Experience: 1 year
Qualification: Degree Holder
Location: Lookout Mountain, GA, USA
Company: See Rock City, Inc
Description:
Accounts Payable Clerk required
About the job
Summary
The Accounts Payable (AP) Clerk completes accounts payable transactions daily. Under the direction of the Accounts Payable Senior Accountant the AP Clerk is responsible for performing the following duties
Responsibilities
Delivers excellent guest service to internal and external customers in line with the organization's mission, culture, and values.
Models appropriate guest and partner interaction at all times.
Ensures all paperwork is handled in an accurate and timely manner.
Ensures that company policies and procedures are followed at all times.
Enters and completes accounts payable transactions daily and record in company's accounting software.
Verifies vendor invoice amounts and approvals for payment.
Organizes invoices/expenses for appropriate fixed asset additions.
Reviews and records company's corporate and individual credit card expense reports
Files accounts payable invoices on a weekly basis.
Oversees and reconciles company's petty cash accounts.
Maintains and distributes mail for the team.
Light duty cleaning and organizing from time to time.
Performs other duties as assigned by management.
Qualifications
Possess High School Diploma or equivalent. Coursework and/or a degree in general accounting a plus.
At least 1-year previous experience in business administration, accounting or related field and willingness to receive training.
Possess a kind personality, the desire to contribute to a great team, and willingness to learn or improve skills.
Ability to display a professional, engaging, and polite image to guests and team partners.
Ability to effectively present information and respond to questions from managers, and guests.
Ability to analyze and record accounting transactions accurately.
Effective written and verbal communication skills.
Superior attention to detail.
Ability to multi-task and manage time effectively.
Must possess excellent computer skills and be proficient in MS Office (Outlook, Word, Excel), and working knowledge of Great Plains – Dynamics a plus.
Ability to read and understand operational documents.
Ability to work effectively with a team in a fast-paced, efficient, environment.
Ability to add, subtract, multiply, and divide. Ability to perform these operations using units of American money.
Ability to provide a flexible schedule to work nights, weekends, holidays, and special events as needed.
Required to regularly use hands and fingers. Ability to lift/move up to 15 pounds. Required to walk, stoop, kneel or crouch frequently. Must be able to stand regularly.