November 4, 2023
Accounting Lead Norfolk NE USA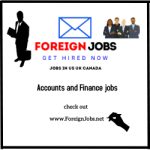 Integrity Marketing Group, LLC
Position Accounting Lead
Industry: other
Employment type: Full Time
Experience: 4 years
Qualification: Degree holder
Company: Integrity Marketing Group, LLC
Location: Norfolk, NE, USA
Description:
Accounting Lead
Integrity is one of the nation's leading independent distributors of life, health and wealth insurance products. With a strong insurtech focus, we embrace a broad and innovative approach to serving agents and clients alike. Integrity is driven by a singular purpose: to help people protect their health and wealth so they can be ready for the good days ahead.
Headquartered in Dallas, Texas, Integrity is committed to meeting Americans wherever they are — in person, over the phone or online. Integrity's employees support hundreds of thousands of independent agents who serve the needs of millions of clients nationwide. For more information, visit IntegrityMarketing.com.
ABOUT THE ROLE:
This role is responsible for accurately gathering, recording, and paying commissions to clients and ensuring that our revenue is properly reported. They will administer ancillary commission files for several carriers that spans the senior health and preneed division. They will be responsible for auditing and verifying account balances of clients are accurate at the time payments are released will be required. Take the primary role with projects that fall outside of normal day to day activities such as technology development, cash now program, and annual audit.
Primary Responsibilities:
Create, maintain, and review all revenue reports
Works with agents and marketers to resolve, questions, inconsistencies, or missing commission or deposit information
Verify that the deposit matches the corresponding statement, if not work with key contacts to reconcile
Reach out to carriers to resolve inconsistencies or missing information
Process bank returns and notification of change from bank
Finalize, Review, & Submit payment file to the bank after team has complete the data for the statement
Monitor and adjust 1099 balances to ensure that the balance is correct
Educate and train team on how to ingest their files for accurate recording of statement
Inspect account books and accounting systems for efficiencies, effectiveness, and the use of accepted accounting procedures
Develop, Maintain, analyze and verify reports, files, or other records needed for annual audit
Process invoices for payment
Compute & pay taxes owed to the state of Nebraska for Credit card purchases
Required Competencies:
Strong analytical skills to evaluate payments and inconsistencies, confidence to take appropriate action to resolve discrepancies
Exhibits sound and accurate judgement, includes appropriate people in the decision-making process
Follows policies and procedures, completes administrative tasks correctly and on time, supports organization's goals and values
Strong customer service skills to respond promptly to customer needs
Maintains confidentiality
Uses time efficiently and completes work in a timely manner
Conveys a friendly, positive attitude while maintain professionalism at all times
Education Experience:
High School diploma
4+ of administrative experience in insurance industry
4+ years of accounting or bookkeeping experience
Integrity offers you the opportunity to start a career in a family-like environment that is rewarding and cutting edge. Why? Because we put our people first! At Integrity, you can start a new career path at company you'll love, and we'll love you back. We're proud of the work we do and the culture we've built, where we celebrate your hard work and support you daily.
Joining us means being part of a hyper-growth company with tons of professional opportunities for you to accelerate your career. Integrity offers our people a competitive compensation package, including benefits that make work more fun and give you and your family peace of mind.
Integrity Marketing Group, LLC is an Equal Opportunity employer. All qualified applicants will receive consideration for employment without regard to race, color, religion, sex, gender identity, national origin, disability, veteran status, or any other characteristic protected by federal, state, or local law. In addition, Integrity Marketing Group, LLC will provide reasonable accommodations for qualified individuals with disabilities