October 2, 2023
Accountant Kernersville NC USA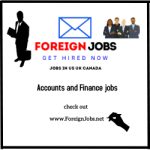 Position: Accountant
Industry: other
Employment: Full Time
Experience: 3 to 5 year
Qualification: Degree Holder
Location: Kernersville, NC, USA
Company:  Sunrise Systems, Inc
Description:
APPLY HERE:
Accountant required
Specific Position Requirements
Visa sponsorship is not available, now or in the near future, for this position.
First shift 8-4:30 Monday -Friday.
Education Preferred
Bachelor's Degree, preferably in accounting
Years Of Experience Required
At least 3-5 Years of Accounting Experience Required
Top 3 skills
SAP experience within the FI/CO modules
Previous experience in either general accounting or accounts payable role
Proactive communicator with a strong work ethic
Duties
Performs various moderately complex professional accounting assignments requiring knowledge of business units, company policy, or accounting theory.
Includes coordinating, preparing, and analyzing financial information and reports that provide summary information for management use in making company financial decisions.
Prepares various daily, monthly, quarterly, or annual financial/cost reports, statements, or exhibits.
Records routine or recurring transactions.
Gathers, reviews, and analyzes statistical information.
Makes necessary corrections and/or adjustments to receive accurate report information.
Examines accounting information contained in reports and exhibits, traces and reconciles unusual variances.
Performs complex account reconciliations.
Communicate with others within the department or outside of the work area in order to exchange information and answer questions or resolve issues.
Limited reporting to management in the area of expertise.
Note: Candidates who can work on our W2 without any VISA sponsorship must apply. Non-local candidates need to relocate on their own as no relocation assistance will be provided.
https://www1.jobdiva.com/portal/?a=wkjdnw09prvv1eg1pbdvc2i59i8c2x01161ji2zesa7n9avk5oeonhko8x19lmnq&compid=0#/jobs/25320653