August 22, 2023
Account Specialist, Chicago, IL (On-site), US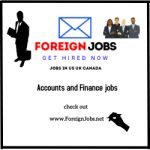 Position: Account Specialist
Industry: other
Employment: Full Time
Experience: 5 to 7 year
Qualification: Degree Holder
Location: Chicago, IL (On-site), US
Company: Motion
Description:
APPLY HERE:
Hiring OEM Account Specialist
SUMMARY:
A Motion Conveyance Solutions OEM Account Specialist role sells directly to customers with a technical focus on Mi Conveyance Solutions belt, hose, gasket, and urethane products. This role focuses on developing and implementing sales strategies, identifying potential customers, and managing existing customer relationships specifically for Mi Conveyance Solutions products.
This is remote position with geographically responsibilities covering several states.
Job Duties
Sells directly to customers primarily through face-to-face interactions to foster strong relationships and maintain customer satisfaction.
Assesses customer needs and suggests appropriate products, services, and/or solutions.
Generates new OEM business, cross sells, and repeat sells to new and existing customers by developing and implementing sales strategies, identifying potential customers, and managing existing OEM customer relationships.
Negotiate and closes agreement with large customers.
Develops proposals, presentations, and conducts technical product demonstrations.
Develops, maintains, and redirects strategic plans and timelines in order to achieve the targeted goals required to convert an OEM site.
Works with Fabrication Center Managers to provide business planning to exceed customer requirements.
Cultivates a strong and trustworthy relationships with strategic suppliers.
Collaborates to identify and secure new business opportunities.
Stays up-to-date with industry trends, understands the competitive landscape, and delivers a world class customer experience.
Performs other duties as assigned.
Education & Experience
Typically requires at bachelor's degree and five (5) to seven (7) years of related OEM experience or an equivalent combination.
Knowledge, Skills, Abilities
Knowledge of industrial products: power transmission, hydraulic, and industrial hose products.
Accomplished in the enduring and persistent OEM sales cycle working with key discussion makers in engineering, marking, quality, and procurement management.
Reliable, organized, and detailed focused.
Technical ability to work with OEM engineering on new platform designs and Value Analysis and Value Engineering (VA/VE) projects.
Proficient with MS Word, Excel, PowerPoint and Outlook, including communicating internally and externally via email.
Effective negotiation skills require and ability to present to executive level internally and externally.
Ability to multitask and manage time well.
PHYSICAL DEMANDS:
Travel Required, Tradeshows, Plant Tours, And Equipment Evaluations.
LICENSES & CERTIFICATIONS: Excellent driving record required.
SUPERVISORY RESPONSIBILITY: No Supervisory Responsibility
BUDGET RESPONSIBILITY: No
COMPANY INFORMATION:
Motion Industries offers an excellent benefits package which includes options for healthcare coverage, 401(k), tuition, reimbursement, vacation, sick, and holiday pay.
Not the right fit? Let us know you're interested in a future opportunity by joining our Talent Community on jobs.genpt.com or create an account to set up email alerts as new job postings become available that meet your interest!
GPC conducts its business without regard to sex, race, creed, color, religion, marital status, national origin, citizenship status, age, pregnancy, sexual orientation, gender identity or expression, genetic information, disability, military status, status as a veteran, or any other protected characteristic. GPC's policy is to recruit, hire, train, promote, assign, transfer and terminate employees based on their own ability, achievement, experience and conduct and other legitimate business reasons.