November 3, 2023
Tax Analyst Boston MA USA
Full Time
$90K/yr - $160K/yr USD / Year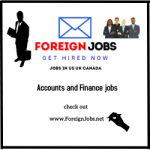 Position Tax Analyst
Industry: Other
Employment type: Full Time
Experience: 5 year
Qualification: Degree holder
Salary: $90K/yr – $160K/yr
Company: Hire Resolve ·
Location: Boston, MA, USA
Description:
Tax Analyst
Hire Resolve is a recruitment company that focuses on placing professionals and skilled people in permanent employment. We focus on working with top quality professionals and pride ourselves on delivering excellent service to our clients and candidates.
Hire Resolve is looking for an experienced Tax Accountant to join their client's team in Boston. As a Tax Accountant, the successful candidate will be responsible for various tax-related duties, including preparing tax returns, identifying tax savings, and ensuring compliance with tax regulations. Additionally, the individual will participate in tax planning and research, resolve tax issues, and communicate tax developments to colleagues.
Responsibilities
Preparing tax returns for individuals, businesses, and other organizations
Collaborating with clients to gather necessary tax information
Identifying tax savings for clients
Ensuring compliance with tax regulations
Participating in tax planning and research
Requirements
5+ years of experience as a Tax Accountant
A degree in Accounting or related field
Strong understanding of tax codes, laws and regulations
CPA or CPA eligible
Ability to manage multiple tasks and work efficiently
Benefits
Salary: $90K/yr – $160K/yr, salary negotiable
Paid time off (PTO)
401(k) retirement plan
Contact Hire Resolve today for your next career changing move.
Our client is offering a highly competitive salary for this role based on experience.
Apply for this role today, visit the Hire Resolve website:  or email us:
You can also contact Lidene Pienaar at Hire Resolve on LinkedIn
We will contact you telephonically in 3 days should you be suitable for this vacancy.
If you are not suitable, we will put your RESUME on file and contact you regarding any future vacancies that arise.