October 7, 2023
Staff Accountant Los Angeles CA USA
Full Time
$80,000/yr - $100,000/yr USD / Year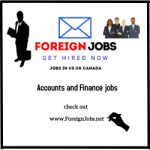 Position: Staff Accountant
Industry: other
Employment: Full Time
Experience: 2 year
Qualification: Degree Holder
Salary: $80,000/yr – $100,000/yr
Location: Los Angeles, CA, USA
Company: Hire Resolve
Description:
APPLY HERE:
Staff Accountant
A well-known CPA firm in Los Angeles, CA is currently seeking a Staff Accountant to join our team. As a Staff Accountant, you will be responsible for assisting with the preparation of monthly financial statements, analyzing and reconciling accounts, and preparing financial reports. You will work closely with the Finance and Accounting teams to ensure adherence to accounting principles and company policies.
Responsibilities
Assist with month-end close process, including preparation and analysis of monthly financial statements
Prepare and reconcile general ledger accounts and bank statements
Assist with budgeting and forecasting processes
Prepare and file company tax returns
Maintain accurate and up-to-date financial records
Assist with audits, both internal and external
Adhere to accounting principles and company policies
Requirements
Bachelor's degree in Accounting or Finance
Minimum Of 2 Years' Experience As a Staff Accountant
Knowledge of accounting principles and procedures
Strong analytical and problem-solving skills
Excellent verbal and written communication skills
Detail-oriented and organized
Proficient in Microsoft Excel and accounting software
Benefits:
Salary: $80K/yr – $100K/yr, salary negotiable
Paid time off (PTO)
401(k) retirement plan
Contact Hire Resolve today for your next career changing move.
Apply for this role today, visit the Hire Resolve website:  or email us:
You can also contact Michanne Van Zyl, Lidene Pienaar and Lindy Bently at Hire Resolve on LinkedIn
We will contact you telephonically in 3 days should you be suitable for this vacancy.