October 10, 2023
Staff Accountant Irving TX USA
Full Time
$48.60/hr USD / Hour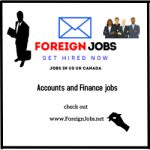 Position: Staff Accountant
Industry: Other
Employment: Full Time
Experience: 3 to 5 year
Qualification: Degree holder
Salary: $48.60/hr
Location: Irving, TX, USA
Company: APR Consulting
Description:
APPLY HERE:
Staff Accountant
APR Consulting ·
APR Consulting, Inc. has been engaged to identify a Staff Accountant to assist in various accounting/financial activities and reviews accounting system inputs/outputs for accuracy and reasonableness.
Location: Scottsdale, AZ 85258 Hybrid (Alternating on site and remote)
Position: Staff Accountant
Pay Rate: $48.66/hr
Duration: 13 weeks
Job Summary
The responsibilities include, but are not limited to: preparing and analyzing advanced reports; monitoring transactional impact to financial statements; performing analysis of financial information; and preparing and reviewing general ledger account reconciliations. This position will gather, process, and summarize complex financial information to provide support to the organization's fiscal functions and apply accounting reporting requirements in accordance with generally accepted accounting principles (GAAP) related to the goals of the company.
Initiates, prepares, posts, and reconciles journal entries on a monthly basis. Prepares and reviews general ledger account reconciliations to determine the accuracy and completeness of the general ledger.
Proposes and initiates ideas or actions that improve department policies, practices and effectiveness and lead the implementation. Works effectively and professionally with both external and internal auditors.
Performs specific functions which may include, but are not limited to: Revenue variance analysis, quarterly and annual tax schedules, cash flow projections, policies and procedure review.
Oversees reconciliation of data such as fixed assets, leases, investments, contracts, etc., and determines the completeness, existence, accuracy, and valuation of such data to ensure properly reported in the financial statements.
Determines proper accounting treatment of various transactions according to generally accepted accounting principles.
Develops, establishes and maintains a work priority system to ensure daily and heavy workloads are fulfilled.
Requirements
Bachelor's required (must be in business, finance or accounting), Master's preferred
2 years – public accounting or industry
Our client is one of the largest Healthcare Staffing Providers in the United States, to be assigned at one of their affiliated hospitals/healthcare facilities.
This particular client is requiring that all new hires show proof of vaccination. However, accommodations may be made for those with disabilities or religious reasons who cannot obtain a vaccine.
Since 1980 APR Consulting, Inc. has provided professional recruiting and contingent workforce solutions to a diverse mix of clients, industries, and skill sets nationwide.
We are an equal opportunity employer, and all qualified applicants will receive consideration for employment without regard to race, color, religion, sex, sexual orientation, gender identity or expression, pregnancy, age, national origin, disability status, genetic information, protected veteran status, or any other characteristic protected by law.