August 21, 2023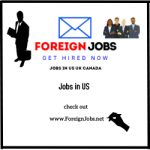 Position: Service Advisor
Industry: other
Employment type: Full Time
Experience: 3 to 5 year
Qualification: Degree Holder
Company: Swickard Auto Group
Location: Bellingham, WA (On-site)
Description:
Service Advisor (CV)
Description
At Swickard, we're passionate about vehicles and committed to providing 100% customer support and satisfaction – that's where you come in!
Each member of our team is dedicated to providing a superior experience, whether over the phone, face to face, or in a supportive role. Our customers are the reason we're here. We want to be their favorite place to purchase or lease a vehicle, and we want to be your favorite place to work! If you understand hospitality and are committed to the customer experience we'd like to talk to you! Swickard is changing the way auto dealerships operate, and revolutionizing the world of service after the sale. Our culture is transforming the retail automotive industry – and our team just continues to grow!
We are seeking a Service Advisor with excellent customer service skills. Hospitality experience is a must! We are a bustling dealership with a steady workflow, an experienced service team, and a cutting-edge facility. Additionally, we offer the opportunity for competitive income, benefits, and an enjoyable work environment.
If you have experience in hospitality, guest services, or just simply love making people happy, we'd like to help you translate those skills into a successful career with Swickard Auto Group
Responsibilities
Greet customers promptly
Meet with customers and review services owed from point of purchase of their vehicle
Increase customer satisfaction by building customer relations
Maintain the company's standards for ethical business practices, professional image, orderliness, customer service and good employee and community relations
Monitor the progress of each vehicle throughout the day, and updating customers frequently
Increase profitability by maximizing sales & executing retail promotions
Oversee the technician working on customer vehicles including their time management/efficiency, ordering of parts, job completion times
Participate in the development and documentation of Standard Operating Procedures as appropriate
Explain all work completed to customer
Requirements
High School Diploma or equivalent
Accredited training in service advisor skills, customer satisfaction, and quality control
Minimum 1-year automotive service advisor experience or hospitality industry experience
Basic automotive knowledge
Ability to concentrate and accomplish tasks despite interruptions
Ability to perform a variety of tasks simultaneously
Positive attitude, high energy, friendliness
Must have a valid driver's license
We offer a competitive package – salary and benefits – including but not limited to medical, dental, vision, life and pet insurance, optional disability coverage, paid holidays and vacation time, and a 401K plan.