July 31, 2023
Retention and Archiving Coordinator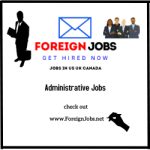 Position: Retention and Archiving Coordinator
Industry: Other
Employment: Full Time
Experience: 3 to 5 year
Qualification: Degree holder
Location: Lane County, OR (Hybrid), US
Company: Oxfam
Description:
APPLY HERE:
Retention and Archiving Coordinator
About the job
Oxfam is a global movement of people working together to end the injustice of poverty.
Do you have excellent verbal and written communication skills and change management skills?
Do you have broad understanding of Oxfam's programme operations environment and related challenges?
We are looking for a Retention and Archiving Coordinator at a pivotal time of transition and change for the organisation.
What You'll Be Doing
In this role, you will manage a project to define, implement and roll out a retention and archiving policy, procedures and tools for country offices where Oxfam GB is executing affiliate; ensuring proper ownership and consultation within Oxfam GB teams. Ensure that these practices are consistent with the development of the Transforming Business Support (TBS) Unit
You'll Have
We're looking for a candidate who cares about Oxfam's mission to end poverty and is personally aligned to the values of empowerment, accountability and inclusion in all you do and our feminist principles.
An ideal candidate for the role will also be / have:
Matrix working: Demonstrable ability to achieve successful outcomes in collaboration with a diverse group of people that is not structured by formal hierarchy.
Excellent verbal and written communication skills and change management skills.
Broad understanding of Oxfam's programme operations environment and related challenges
Experience in setting up an archiving system mechanism in a development sector and good understanding of the international charity organisations ways of working at field level, including donor relationships and requirements
Capacity to project manage the definition and implementation of processes (flowcharts, RACIs, approvals, feedback documentation and tacking, etc).
Eventual travel according to project needs to train or review current practices
Please note this is 12 months fixed term opportunity.
Flexfam
Flexible working is key to building the Oxfam of the future, so we're open to talking through the type of flexible arrangements which might work for you. Location could be: Oxford or any existing Oxfam Regional or Country Office location on approval provided the candidate has the right to work from the preferred location.
We offer a competitive salary and a range of additional benefits to staff including flexible working options, generous pension scheme, annual leave, additional leave allowances, company sick pay, life assurance and a range of other benefits.
We have a wide range of internal Learning & Development courses on offer, with on-the job learning opportunities, mentoring, certified coaching, in house courses, and much more. You can read more about all Oxfam has to offer here for UK-based, local, and International staff.
Our Values And Commitment To Safeguarding
Oxfam is committed to preventing any type of unwanted behaviour at work including sexual harassment, exploitation and abuse, lack of integrity and financial misconduct; and committed to promoting the welfare of children, young people, adults and beneficiaries with whom Oxfam GB engages. Oxfam expects all staff and volunteers to share this commitment by complying with our code of conduct. We place a high priority on ensuring that only those who share and demonstrate our values are recruited to work for us.
The post holder will undertake the appropriate level of training and is responsible for ensuring that they understand and work within the safeguarding policies of our organisation
Offers of employment within the open recruitment stages will be subject to one satisfactory internal reference from a current manager in line with current policy where the selected candidate is moving to a new Division and the role has significantly changed from their current post. Gaining an internal employment reference will not apply to those within ringfence selection or suitable alternative / redeployment situation which falls under Oxfam's redundancy process.
Conditional offers made in selection stages may also be subject appropriate screening checks. Oxfam GB participates in the Inter Agency Misconduct Disclosure Scheme. In line with this scheme we will take into account any live disciplinary sanctions a candidate may have when making the selection decision
How To Apply
As part of your online application, please upload a copy of your CV and cover letter.
Oxfam GB is a Disability Confident Employer. Should you be unable to submit your application online and would prefer an alternative method please contact our recruitment team ( recruitmentteam@oxfam.org.uk ). If you also want to discuss your application, please do contact us as well.
About Us
Oxfam is a global community who believe poverty isn't inevitable. It's an injustice that can be overcome. We are shop volunteers, women's right activists, marathon runners, aid workers, coffee farmers, street fundraisers, goat herders, policy experts, campaigners, water engineers and more. And we won't stop until everyone can live life without poverty for good.
Oxfam GB is a member of an international confederation of 19 organisations working together with partners and local communities in the areas of humanitarian, development and campaigning, in more than 90 countries.
A Thriving Diverse Oxfam
It's people power that brings about change. To play our part as a global organisation working to overcome poverty and inequality, we need equality, diversity and inclusion across our community of staff, partners and volunteers. Together, we're committed to becoming a more diverse workforce, better able to tackle the global challenges that face our world today.
To Do That
We need to dismantle the unequal power structures that exist everywhere, this including Oxfam and the wider development and charity sectors.
We need an inclusive Oxfam where everyone can bring who they are to our work and feels celebrated for the differences they bring.
We want and need everyone, and that means we need you.