November 4, 2023
Regulatory Tax Auditor Olivette MO USA
Full Time
$46,992.73 USD / Year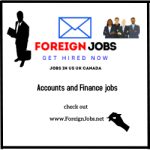 Position Regulatory Tax Auditor
Industry: other
Employment type: Full Time
Experience: 2 to 5 year
Qualification: Degree Holder
Salary: $46,992.73/Yr
Company: State of Missouri
Location: Olivette, MO, USA
Description:
Regulatory Tax Auditor required
This position is located in St. Louis, MO
Hybrid Work Option Available DOR's vision is to provide every customer the best experience every time.
How This Position Supports The Department's Vision
You will receive formal and on-the-job training to support your entry-level professional tax auditing skills. You will be working independently to conduct your own audits and assisting taxpayers in gaining an understanding of Missouri tax laws and achieving compliance. Department of Revenue offers opportunities for career development and growth.
Duties Performed To Support The Department's Vision
Independently conduct sales/use/withholding tax audits on Missouri businesses by reviewing company tax returns, financial and related records to determine compliance with applicable case law, regulations or statutes.
Communicate with customers or their accounting or legal representatives to initiate audits and obtain necessary records; respond to customer inquiries; explain applicable laws, regulations, audit procedures and policies.
Core Competencies Needed
Strategic Thinking Computer Literacy Effective Writing
Self-directed Attention to Detail Clear Communication
Qualifications
Graduation from an accredited four-year college or university with major specialization (approximately 18-30 semester hours) in accounting. (Related professional experience may be considered for substitution.)
Prefer candidates with a working knowledge of word processing, spreadsheet and database software packages, and
Working knowledge of accounting principles and auditing standards and procedures
After 3 months, with successful production, the Field Compliance Bureau offers a hybrid work options (1 day in the office, 4 days from home). However, you will be required to report to work each week and will be domiciled in the St. Louis Office.
There Are Required Minimum Work-space And Internet Specifications
High speed internet with ability for wired connection
A confidential and secure work space to work
Please Direct Any Questions About This Position To
The Missouri Department of Revenue Human Resources and Total Rewards office at (573) 751-1291.
We celebrate diversity and are committed to creating an inclusive environment for all employees
The State of Missouri is an equal opportunity employer.