July 19, 2023
Full Time
$45,521.43 - $61,985.83 USD / Year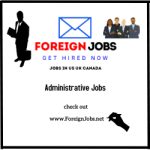 Montclair State University
Position: Program Assistant
Industry: other
Employment: Full Time
Experience: 2 years
Qualification: Degree holder
Salary: $45,521.43 – $61,985.83/Yr
Location: Montclair, NJ, US
Company: Montclair State University
Description:
APPLY HERE:
Program Assistant required
About the job
Important Application Instructions
Upload Resume or Curriculum Vitae for automatic population of information to the application.
The contact information, work experience, and education listed on your Resume/CV will be parsed and input into your Montclair application.
Review information and double-check all fields containing information that the system parsed – the software is intelligent, but you need to verify that the data is accurate.
In the "My Experience" section, you will find a Resume/CV upload option where you can submit your cover letter and all other supporting documents.
Note: If you have an expansive CV, we recommend that you apply manually and only include the positions you have held in the last ten (10) years. You will then be able to attach your Resume/CV, as well as all other supporting documentation in the "My Experience" section of your application.
Summary
Job Description
Reporting to the Director and/or Associate Director, the Program Assistant provides direct secretarial support and assistance to all Counseling and Psychological Services staff. This administrative support position works in tandem with other administrative support personnel in the office, and provides desk coverage when needed
Principal Duties And Responsibilities
Provides prompt attention to students using services
Promotes a calming and welcoming environment for anxious and distressed students; alerts staff of speedy referral needs for distressed students and emergency situations.
Schedules students for appointments with appropriate providers and keeps an accurate record of all students who make and change appointments in the electronic medical record.
Maintains schedules for full and part time staff as well as trainees. Prepares and maintains trainees' files. Helps train trainees regarding office/scheduling procedures.
Responsible for smooth and timely processing of materials and meeting of established deadlines.
Handles office routine matters, including maintenance of accurate personnel records, monitoring and ordering of supplies, preparing travel requests and reimbursements as well as submitting maintenance requests; verifies accuracy of office/staff expenditures.
Ensures reception and waiting area clean and orderly.
Answers telephone promptly and with proper identification, processes all messages and transfers calls.
Reviews and sorts incoming correspondence.
Responsible for submitting invoices for suppliers and independent contractors.
Responsible for maintaining and reporting information on students taking/returning from medical withdrawal.
Helps to prepare and gather information and statistics for the Annual Report.
Prepares letters, which may be reviewed and signed by the Director, Associate Director or staff.
Maintains accurate records of search applicants and sends correspondence to search applicants.
Provides input for budget planning.
Organizes, prepares and distributes accurate information to promote events and services via social media, flyers and palm cards.
Interacts and communicates effectively with other University departments, as needed.
Conveys information to requests for department related functions and procedures.
Maintains lending library.
Performs other duties as assigned.
Management retains the right to add or change job duties at any time.
Qualifications
REQUIRED:
Graduation from an accredited college with a Bachelor's degree. Applicants who do not possess the required education may substitute experience on a year for year basis. Applicants who possess an Associate's degree may substitute two (2) years of position-related experience for the remaining two (2) years of education.
Computer proficiency with Microsoft Office software.
Excellent interpersonal skills.
Preferred
Minimum of one-year experience with customer service.
Secretarial experience in a professional workplace.
Experience working in a mental health or other health care environment.
Experience with health promotion via social media.
PROCEDURE FOR CANDIDACY
Applicants should include a resume and cover letter describing how their background, skills and education match the needs of the University. When applying, please take a moment to carefully read and follow the steps in the application instruction.
NOTE: This is a Civil service position. After successfully serving a 4-Month Working Test Period as required by the State of New Jersey, you will then be certified to your position. Thereafter, you will attain a permanent status in this title.
SALARY RANGE: P16: $45,521.43 – $61,985.83 *NOTE: Salaries for internal candidates are determined by the New Jersey Civil Service Commission's formula. Salaries for external candidates are determined up to no more than $51,695.58.
Montclair State is required by Title IX and 34 C.F.R. 106 not to discriminate on the basis of sex or gender, and does not discriminate on the basis of sex or gender in the operation of education programs and activities. The requirement to not discriminate on the basis of sex or gender in the operation of education programs and activities extends to admission and employment.