July 27, 2023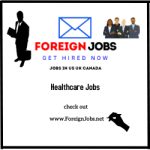 Position: Pharmacy Technician
Industry: Healthcare
Employment type: Full Time
Experience: 3 to 5 year
Qualification: Degree Holder
Salary: $25 Per Hour
Location: Alexandria, VA, US
Company: NSI Healthcare
Description:
Pharmacy Technician Needed
Are you a detail-oriented and skilled Pharmacy Technician looking for an exciting opportunity in a private practice setting? Look no further! We are currently
Seeking a Pharmacy Technician to join our wonderful team at our private practice located in Alexandria, VA. This position offers a competitive hourly rate of $25 and includes a comprehensive benefit package. Join us and work alongside a dedicated doctor and staff in a supportive environment.
Job Details
Location: Alexandria, VA
Employment Type: Full-Time or Part-Time
Practice Type: Private Practice
Position: Pharmacy Technician
Work Schedule: Monday – Friday, Great Hours
Responsibilities
Prepare and mix chemotherapy medications following established protocols and guidelines.
Dispense medications accurately and efficiently.
Maintain inventory of medications and supplies, ensuring proper storage and handling.
Collaborate with the doctor and staff to provide seamless pharmacy services.
Maintain accurate and thorough documentation of medication dispensing and inventory control.
Ensure compliance with all pharmacy regulations and standards.
Qualifications
Valid Pharmacy Technician license or certification in the state of Virginia.
Proven experience in preparing and mixing chemotherapy medications.
Strong knowledge of pharmacy operations and procedures.
Excellent attention to detail and accuracy in medication preparation and dispensing.
Ability to work independently and as part of a team.
Excellent communication and interpersonal skills.
Benefits: We offer a competitive hourly rate of $25, commensurate with experience and qualifications. Additionally, we provide a comprehensive benefits
Package, which may include health insurance, retirement savings, paid time off, and more.
Join our private practice and contribute to the well-being of our patients. To apply, please submit your CV or resume highlighting your relevant experience
And qualifications. We look forward to reviewing your application and potentially welcoming you to our dedicated team!
Employment Type: Full-Time