October 13, 2023
Payroll Administrator Maine US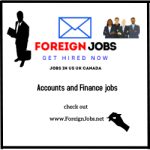 Position: Payroll Administrator
Industry: Other
Employment: Full Time
Experience: 2 to 4 year
Qualification: Bachelor's Degree or equivalent
Location:
Company: Tilson
Description:
Payroll Administrator
Tilson is on a mission to build America's information infrastructure and we are seeking individuals from across the country to join us. Recognized on the Inc. 5000 list of fastest-growing private companies in the U.S. for 13 years in a row, Tilson is a high growth team of driven professionals with a national practice. We build high-performing teams who take on the largest and most impactful projects for our clients.
Position Details
Oversees all payroll processes for the entire company. This position reports directly to the Controller and works closely with the Human Resources Manager and IT Team to ensure weekly payroll is expertly managed across the company.
Responsibilities
Responsible for timely and efficient processing of company-wide, nationwide payroll
Make recommendations on policy and process modifications to senior management as appropriate.
Ensures compliance and maintains current knowledge of applicable federal and state policies
Facilitates management and employee understanding of payroll procedures
Oversee the issuance of pay and managing of direct deposits
Coordinates with Benefits Specialist to process benefits withholding, payroll deductions, garnishments and levies
Conduct timely reconciliations
Prepare and lead company through end-of-year payroll processes
Qualifications
Bachelor's Degree or equivalent experience
Payroll expertise with multi-state payroll
Excellent verbal and written communication skills
Works successfully with members of a team
Demonstrated critical thinking and attention to detail around process improvement
Proficient in Microsoft Office Suite and comfortable with database systems
No travel expected for this position
We accomplish our mission with a team of experts working collaboratively on meaningful, impactful projects for our clients. Our team environment fosters intellectual curiosity, motivates employees, and cultivates talented people who work with purpose, mastery and autonomy. We strive to listen to our clients, partner with them as a team, and accept their goals as our own.\
Tilson believes in Safety, Integrity, Accountability, Professionalism, Respect, and Composure. To learn more about Tilson, the benefits we offer and our values, we invite you visit our website or visit our LinkedIn, Glassdoor, or Facebook pages for an inside glimpse at our culture.
Successful candidates will be required to submit to criminal background check and may be subject to a drug screen.