October 8, 2023
Office Assistant Forest City NC, USA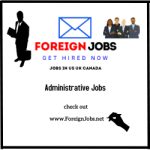 Position: Office Assistant
Industry: Other
Employment: Full Time
Experience: 2 to 5 year
Qualification: Degree Holder
Location: Forest City, NC, USA
Company: Newbold Services
Description:
Office Assistant
Newbold Services is seeking an Office Assistant in Forest City, NC who is a looking to gain valuable skills working at a local manufacturing facility.
This position will assist with with tasks around the office. Answering employee questions, printing forms, helping employees fill out forms, and other duties as assigned by the HR Manager. This assignment will last 3-6 months.
Compensation and Benefits
Weekly pay periods every Friday
Supplemental Medical, Vision, Dental, Life Insurance and Short-Term Disability available date of hire.
Background Profile
Advanced Excel knowledge
Excellent computer skills
Solid verbal and written communication skills
Outstanding time-management abilities
Ability to work individually or on teams as required