July 18, 2023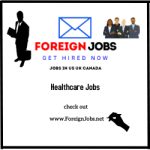 Position Nurse Practitioner
Industry: Healthcare
Employment type: Full Time
Experience: 3 to 5 year
Qualification: Degree Holder
Location: Salisbury, MD On-site, US
Company: CrossMed Healthcare
Description:
APPLY HERE
Nurse Practitioner
CrossMed Healthcare
About the job
Nurse Practitioner physician employment in Maryland : A multispecialty group in Maryland is looking to add neurosurgery APP's to their practice. This is a full-time permanent position with a Monday-Friday schedule + call. Experience is preferred, but new grads with a relevant background or clinical rotations are welcome to apply. The position will be a mix of inpatient and outpatient responsibilities. Providers can first assist if they wish to, but assisting in surgery will not be required. They are offering 50k worth of loan repayment. Come live and practice on the Eastern Shore of Maryland. This town is large enough to have plenty to do in the clean, well-kept downtown; and, you will be located only thirty minutes from both the Chesapeake Bay and Maryland's Atlantic beaches. For the fastest consideration, reach out to Caroline McMahon at after emailing your updated CV to Please reference JOB #2814860
Full-time permanent position
Mix of inpatient & outpatient responsibilities
Option to 1st assist
Monday-Friday schedule
Experience preferred
New grads with relevant experience welcome to apply
Competitive salary & great benefits!
Interviewing and hiring immediately
Our services are free for you
We help negotiate your salary and contract
We coordinate interviews and help with licenses
Specialized recruiters match your career preferences
Experienced support teams take care of every detail
Board Certified or Board Eligible Medical Doctor with or w/o US residency with current US work visa.