August 22, 2023
Investment Analyst, New York, NY, USA
Full Time
$92,408/yr - $107,393/yr USD / Year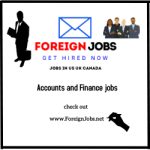 Position: Investment Analyst
Industry: Education
Employment: Full Time
Experience: 3 to 5 year
Qualification: Degree Holder
Salary: $92,408/yr – $107,393/yr
Location: New York, NY (On-site), US
Company: Cornell University
Description:
APPLY HERE:
Investment Analyst
The Office of University Investments (OUI) is seeking highly qualified, entry level Investment Analysts for its analyst program. This is a three-year term position in OUI's New York City office with a start date of summer 2024 (earlier is possible).
No relocation assistance is provided for this position.
No Visa sponsorship is provided for this position.
US nationals and applicants with a current visa status (including OPT) who do not require Visa sponsorship will be considered for this opportunity.
Please note: A PDF resume must be attached to the candidate's application materials (labeled LastFirstOUI)
Who We Are
Cornell is a private, Ivy League university and the land-grant university for New York State. Its mission is to discover, preserve and disseminate knowledge, to educate the next generation of global citizens, and to promote a culture of broad inquiry throughout and beyond the Cornell community. OUI manages the University's $10+ billion endowment, which supports this mission by seeking to generate superior risk-adjusted returns through traditional and alternative investments in US and international equities, fixed income, hedge funds, private equity, venture capital, and real assets.
The Chief Investment Officer is responsible for the day-to-day oversight of the Investment Office and is supported by a dedicated team of investment professionals. The Investment Office is responsible for implementing policies established by the University Board of Trustees and its Investment Committee. To learn more about OUI's policies, objectives, and organizational structure, please visit our website: https://www.investmentoffice.cornell.edu/.
Analyst Program Purpose and Goals
Through a wide variety of asset class, operations, and portfolio and risk analytics assignments, Investment Analysts are expected to acquire a deep knowledge of issues surrounding the development and execution of a robust global, multi-asset class, long-term oriented institutional investment strategy. Analysts work with senior team members in the investment analysis and due diligence process and take on numerous analytic, quantitative, and qualitative projects on an independent basis to facilitate the overall investment process. In contrast to more narrowly defined entry-level finance positions, Investment Analysts are assigned a broad and deep range of asset class exposure and projects covering all aspects of institutional portfolio construction and management over the course of the three-year period.
As part of the program, OUI encourages and supports Investment Analysts as they pursue the Chartered Financial Analyst (CFA) designation as well as one other professional credential (CAIA, FRM, CIPM, etc.).
Responsibilities
Collaborate with senior team members on work related to investment underwriting including investment sourcing, due diligence, and structuring of new investments.
Work independently to provide detailed quantitative and qualitative analysis in support of investment underwriting.
Evaluate and engage with existing investments and manager relationships by analyzing reports, attending meetings with managers, identifying potential issues, and proactively providing relevant updates and/or necessary solutions to emerging issues.
Use rigorous quantitative/statistical techniques and apply and/or develop innovative modelling skills to analyze current and prospective investments and conduct portfolio-level analyses.
Acquire a deep understanding of portfolio rebalancing and optimization, asset class construction, and investment valuation and relative valuation techniques.
Execute a wide variety of performance, risk measurement, and attribution analyses.
Required Qualifications
Bachelor's degree or equivalent: All majors are encouraged to apply (Master's degree candidates welcome). Disciplines on our team have recently included: Business, Finance, Economics, and Engineering (Biological, Biomedical, Chemical, Mechanical, Operations Research, Computer Science, and Engineering Management), French, Actuarial Science, Biology, English Literature, Statistics, Physics, Physiology, Psychology.
Relevant experience: Up to 1 year of related or relevant experience.
Excellent qualitative and interpersonal skills: Applicants must be capable of interacting effectively with external investment managers, the campus community, and the University's Investment Committee.
Strong quantitative capabilities: Significant coursework in one or more of the following fields (even if not a major) is highly valued: statistics, mathematics, computer science, and operations research, science, and/or information systems (evidenced via a transcript or other documentation).
Desired Skills
Demonstrated interest in learning about investment theory and practice, economics, and financial markets.
Willingness to undertake the CFA Program upon joining (see www.cfainstitute.org for background on the CFA® credential).
Ability to prioritize and manage multiple projects and meet deadlines in a thorough and detail-oriented fashion.
Strong written and oral communication skills.
Enthusiasm for supporting the mission of higher education and representing the University in a professional manner.
Evidence of ability to work in teams, positive attitude, and ability to gain and maintain credibility with the campus community and investment managers.
Willingness to travel, at times extensively, on average 15% of the time.
Proficiency in spreadsheet software and mathematics/quantitative technique.
Programming skills in one or more of the following languages: R, VBA, Python, SQL, SAS, Tableau, C#.
6 months experience (relevant internships, teaching assistant work, etc. count toward this) or combination of education and experience is desirable (but not mandatory).
Rewards And Benefits
Cornell receives national recognition as an award-winning workplace for our health, wellbeing, sustainability, and diversity initiatives.
Our benefits programs include comprehensive health care options, generous retirement contributions, access to wellness programs, and employee discounts with local and national retail brands. We invite you to follow this link to get more information about our benefits: https://hr.cornell.edu/benefits-pay.
Follow this link to learn more about the Total Rewards of Working at Cornell: https://hr.cornell.edu/jobs/your-total-rewards.
Our leave provisions include health and personal leave, vacation and paid holidays: Martin Luther King, Jr. Day, Memorial Day, Juneteenth, Independence Day, Labor Day, Thanksgiving and the day after, and an end of the year winter break from December 25-January 1.
Cornell's impressive educational benefits include tuition-free Extramural Study and Employee Degree Program, tuition aid for external education, and Cornell Children's Tuition Assistance Program.
Cornell University embraces diversity and seeks candidates who will contribute to a climate that supports students, faculty, and staff to all identities and backgrounds. We encourage individuals from underrepresented and/or marginalized identities to apply.