November 4, 2023
Financial Specialist I Fairfax, VA, USA
Full Time
$57,000/yr - $96,000/yr USD / Year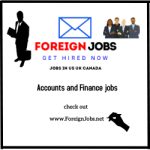 Fairfax County Government
Position Financial Specialist I
Industry: Other
Employment type: Full Time
Experience: 3 to 5 year
Qualification: Degree holder
Salary: $57,000/yr – $96,000/yr
Company: Fairfax County Government
Location: Fairfax, VA, USA
Description:
Financial Specialist I required
Join a dynamic, team-based environment supporting the values and human service mission of the Department of Family Services (DFS). Serves as a team lead for a small team of financial administrative assistants. Provides oversight of procurement card policy compliance and management, as well as execution and oversight of other complex accounting functions that support DFS operations and state programs. Within its area of responsibility, this position ensures compliance with all relevant federal, state, and county guidance and policies for accounts payable and accounts receivable. The position oversees revenue and expenditure transactions in the county's General Fund, Grant Fund, Gift Fund, and Special Welfare Fund. In addition, this position provides support and acts as a backup for the monthly LASER draw down of four to five million dollars in monthly state revenue which supports many DFS programs. This position falls under the direct supervision of a Financial Specialist II in the Accounts Payable-Accounts Receivable Unit of the Financial Management Division.
Responsibilities include:
Compliance and Supervision – Provides supervisory oversight and support for a small financial team that manages the agency's procurement card program and a number of smaller funds. Ensures that all relevant federal, state, and county policies and procedures are followed.
Maintains Special Revenue Funds – Successful tracking, execution, and management of social security and child support refunds into the special welfare fund, which provides a $1.1 million dollar offset to the expenditures of the Children's Services Act. Oversees the Gift Fund, Area Agency on Aging Fund, and Adult and Aging Fund.
Accounts Payable and Accounts Receivable – Applies all wires to the county's FOCUS system. Processes repayments for various state and local programs. Oversees various monthly billings and approves bank deposits submitted by the Administrative Assistants.
State Billing (LASER) – Assists with, and provides backup coverage for, the execution of the monthly state LASER billing process.
Records Management– Maintains accurate, clearly labeled, documentation on all payments and assists with audit documentation requests as needed.
Illustrative Duties
(The illustrative duties listed in this specification are representative of the class but are not an all-inclusive list. A complete list of position duties and unique physical requirements can be found in the position job description.)
Prepares financial statements and reports and reviews for accuracy;
Oversees the processing of budget, procurement, and/or payment documents;
Analyzes cost, revenue and operating expenses;
Maintains special revenue/account funds;
Develops, prepares and justifies the budget for a small agency or assists with budget
Development for a large agency.
Employment Standards
Minimum Qualifications:
Any combination of education, experience, and training equivalent to the following:
Graduation from an accredited four year college or university with a bachelor's degree in accounting; or a bachelor's degree in business administration or related field that has been supplemented by at least 6 credit hours of basic accounting principles and concepts.
Bridge Class Employment Standards:
Four years of increasingly complex technical administrative experience in the assigned functional area, comparable to experience at the Administrative Assistant IV, or higher, level. This class can serve as a bridge class enabling individuals who do not meet the educational or professional experience standards listed above to qualify for this class by possessing four years of increasingly complex technical administrative experience in the assigned functional area, comparable to experience at the Administrative Assistant IV, or higher, level.
The purpose of this bridge class is to promote upward mobility within the Fairfax County workforce. However, persons qualifying for this class on the basis of their technical experience may not substitute this technical experience for education, or for professional experience, in order to qualify for other employment opportunities.
Certificates And Licenses Required:
None.
Necessary Special Requirements:
The appointee to this position will be required to complete a criminal background, a credit check, and a Child Protective Services check to the satisfaction of the employer.
Preferred Qualifications:
Considerable knowledge of Accounts Receivable/Accounts Payable processes and documentation requirements.
Strong analytical, computer, oral and written communication skills, as well as significant expertise in the area of governmental budgeting or accounting, financial management, program support, and policy analysis.
Ability to effectively supervise and coordinate the activities of staff.
Strong working knowledge of the application of internal controls to safeguard county resources.
Ability to multi-task, address urgent issues that arise, and meet strict county, state, and federal deadlines.
Experience working with a general ledger, completing journal entries, and reconciling monthly revenue and expenditures.
Experience managing billing and collections utilizing various software systems and databases.
Considerable experience using Microsoft Office Suite computer software, particularly Excel, and governmental accounting and financial systems.
Physical Requirements:
Ability to use office equipment, to include copiers and scanners, and computer (including ms office software and county apps).
Ability to multi-task and address urgent issues that arise.
Ability to work with customers in person, over the phone, and through video conferencing to include MS teams.
Ability to file and retrieve hard copy files from a high file cabinet.
All duties performed with or without reasonable accommodations.
Selection Procedure:
Panel interview and may include a practical exercise.
The population of Fairfax County is very diverse where 39.8% of residents speak a language other than English at home ( Spanish, Asian/Pacific Islander, Indo-European, and others ) and we are committed to providing county services to individuals regardless of English proficiency. Qualified candidates who are bilingual in English and another language are encouraged to apply for this job opportunity.
Fairfax County Government prohibits discrimination on the basis of race, color, religion, national origin, sex, pregnancy, childbirth or related medical conditions, age, marital status, disability, sexual orientation, gender identity, genetics, political affiliation, or military status in the recruitment, selection, and hiring of its workforce.
Reasonable accommodations are available to persons with disabilities during application and/or interview processes per the Americans with Disabilities Act. Contact 703-324-4900 for assistance. TTY 703-222-7314. DHREmployment@fairfaxcounty.gov EEO/AA/TTY.