July 17, 2023
Electrical Distribution Planner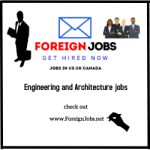 Position: Electrical Distribution Planner
Industry: other
Employment: Full Time
Experience: 1 plus
Qualification: Degree holder
Location: Irving CA-Remote/hybrid, US
Company: Critical River Inc
Description:
APPLY HERE:
Critical River Inc. is a trusted technology consulting company for comprehensive consulting, implementation, and managed services across the globe. The company's highly experienced consultants are experts at understanding client needs and delivering strategic solutions that leverage the latest technologies and industry best practices.
We are hiring now for the below position please share me your updated resume to my email address:
Position: Electrical Distribution Planner
Location: Irving CA-Remote/hybrid
Duration: Contract
Responsibilities Include:
Communicate with customers, Distribution Engineering, Distribution Operations Center and other internal organizations to determine technical requirements regarding the design of new projects.
Define the scope and operational requirements for preparation of preliminary electrical and civil design.
Coordinate design activities for all infrastructure replacement programs, including pole replacements, WCR circuits, capacitors, deteriorated structures, cable replacement, switch replacement, and AR replacement programs.
Overseeing the design of major projects.
Coordinate with Distribution Engineering, Civil Construction, PMO, Drafting, Scheduling, Construction, Environmental, and other internal organizations to create electrical designs.
Prepare work order documents, preparing and reviewing work order drawings, and completing and approving final work order packages.
Minimum Qualifications
Must possess one or more years of experience working with Southern California Edison (SCE) system design & construction requirements.
Experience with reading pole loading sheets and inputting information to SPIDACALC.
Must possess a valid U.S. driver's license.
A combination of formal education, training, and experience to gain knowledge, skills, and abilities generally equivalent to those possessed by a high school graduate.
Demonstrates thorough knowledge of engineering principles, distribution design standards, construction standards, electrical service requirements, and industry practices.
Demonstrates experience determining scope of work, method of service, and construction methods for overhead and underground facilities.
Demonstrates experience preparing work orders or construction plans on projects.