October 2, 2023
Data Entry Clerk Jr United States (Remote)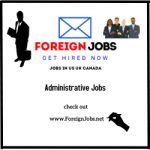 Position: Data Entry Clerk Jr
Industry: Other
Employment: Full Time
Experience: 3 to 5 year
Qualification: Degree Holder
Location: United States (Remote)
Company: Ainnovo
Description:
APPLY HERE:
Data Entry Clerk Jr. (Remote)
Are you a detail-oriented individual with a passion for accuracy and organization? Do you want to kickstart your career in the world of data management? Look no further! We are seeking enthusiastic and dedicated individuals to join our remote team as Data Entry. This is a fantastic opportunity to embark on an exciting career path in a dynamic and supportive work environment.
Responsibilities:
Accurately input and maintain data into our database systems.
Verify and rectify any data discrepancies to ensure data integrity.
Perform data quality checks and assist in data cleansing projects.
Collaborate with team members to achieve data entry targets and goals.
Maintain confidentiality and security of sensitive information.
Adapt to new data entry software and tools as required.
Qualifications:
High school diploma or equivalent.
Strong attention to detail and accuracy.
Basic computer skills and proficiency in Microsoft Office Suite.
Excellent communication skills, both written and verbal.
Ability to work independently and in a team, even in a remote setting.
Strong organizational skills and the ability to manage time effectively.
Desire to learn and grow in a data management career.
Benefits:
Remote Work: Enjoy the flexibility of working from the comfort of your own home.
Training and Development: Access to continuous learning opportunities and professional development programs.
Competitive Compensation: Receive a competitive entry-level salary.
Health and Wellness: Comprehensive health benefits package for you and your family.
Work-Life Balance: Flexible work hours to accommodate your lifestyle.
Team Collaboration: Be part of a supportive and friendly team.
Career Advancement: Opportunities for career growth and advancement within the organization.
Company Culture: Join a company that values diversity, inclusivity, and innovation.
If you are ready to launch your career in data entry and be part of a dynamic remote team, apply now! We are excited to welcome enthusiastic individuals who are eager to contribute to our success. Join us on this rewarding journey and make a difference through accurate data management.