October 13, 2023
Cost Accountant Olmsted Falls OH USA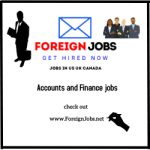 Position: Cost Accountant
Industry: Other
Employment: Full Time
Experience: 3 to 5 year
Qualification: Degree holder
Location: Olmsted Falls, OH, USA
Company: Vitamix
Description:
Cost Accountant
Vitamix is unquestionably the premium brand of high-performance "blenders," and known for its top-notch company culture and climate. It is an important component of what makes Vitamix unique and successful, and the reason why Vitamix is recognized as a Top Workplace, NorthCoast99 Winner, and Smart Culture Award recipient.
Throughout its 101-year history, Vitamix has encouraged and promoted healthy lifestyles for both its customers and employees. Employees enjoy multiple wellness programs and perks, a free Vitamix machine, and an onsite fitness center. Vitamix also offers a flexible work environment, great work culture, healthy living initiatives like fitness reimbursements, and opportunities for advancement.
For consumers, Vitamix can be found domestically in places like William Sonoma, Sur la Table, Crate & Barrel, Target, Amazon, and at Vitamix.com, and is in over 130 countries around the world.
Ultimately, Vitamix is the Global-leader in high-performance blending solutions for home and commercial use, is preferred by chefs and is found in many of top restaurants around the world. It is relied upon by culinary schools in the U.S. and has been used to train thousands of students and master chefs worldwide. If it is not a Vitamix, it's just a blender.
Vitamix is seeking a Cost Accountant that will be responsible for the accurate and complete inventory and COGS valuations. They will maintain accurate costing including new product set up, monthly reconciliation of inventory, and month end close assistance. The Cost Accountant will ensure that all assigned inventory/accounting transactions are completed on a timely basis and accurately maintained to support strategic business decisions. The successful candidate will have prior cost accounting experience in a manufacturing environment.
Duties & Responsibilities:
Develops and implements variance analysis of COGS including production labor, depreciation, purchase price variance, etc.
Ensures proper classification of costs and conducts PPV reporting and analysis
Prepares month end and year end closing entries and reconciliations
Establishes and maintains standard costs in Oracle
Reconciles perpetual and general ledger inventory quantities and values
Responsible for review of BOMs, cost updates, labor/overhead/depreciation rates and product cost accuracy
Monitors inventory adjustments and valuation changes
Assists with annual budgeting projections for cost of goods sold and the establishment of labor/overhead rates
Performs annual and mid-year standard cost updates
Performs special projects related to bills-of material; standard, freight and warranty cost analysis
Performs monthly inventory close
The ideal candidate will also possess:
Alignment with Vitamix's culture and Guiding Principles which defines its Purpose, Mission, and Values.
Expertise around Vitamix competencies: Adapting to Change, Customer Thinking & Focus, Drive for Results, Attention to Detail, Accountability, Initiative, Relations with Others
Highly proficient in Microsoft Office, especially Word, Outlook, Excel and PowerPoint. Experience with an ERP system is preferred, Oracle is a plus. CPA certified or progress toward certification is preferred
Good knowledge of accounting principles, policies and practices, including Generally Accepted Accounting Principles
Possesses and displays excellent verbal and written communication skills with ability to convey information in a clear, focused and concise manner
Demonstrated ability to interface and maintain effective relationships with all levels of employees in a team-oriented environment
High level of corporate professionalism, maturity and political savvy
Ability to effectively prioritize and execute tasks in a high-pressure environment
Proven ability to identify, analyze, and solve problems
Strong sense of personal ownership committed to quality, accuracy and timeliness
Bachelor's Degree in Accounting, Finance, or related field
3 years cost accounting experience in a manufacturing environment required