October 7, 2023
Bookkeeper Accountant Fort Lauderdale FL USA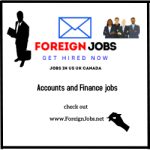 Position: Bookkeeper Accountant
Industry: services
Employment: Full Time
Experience: 3 to 5 year
Qualification: Degree holder
Location: Fort Lauderdale, FL, USA
Company: PMG Private CFO Services
Description:
APPLY HERE:
Bookkeeper Accountant
PMG Private CFO Services ·
PMG Private CFO Services is continuing to grow and we are currently seeking qualified bookkeepers/accountant to help us to manage our key customer accounts. We need individuals who are experienced, have strong social skills, can think on their feet, highly organized, self-motivated and who are looking for a long-term career opportunity! You will be responsible for preparing and analyzing financial records for our client's companies and helping them to make the best decisions for their business(es).
Responsibilities:
Prepare and examine accounting records, financial statements, taxes, and other financial reports
Develop and analyze reporting for business operations and budgets
Perform audits, ensuring adherence to standard requirements
Create new processes to improve financial efficiency
Report analysis and findings to management team
Qualifications:
Previous experience in accounting or other related fields
Fundamental knowledge of GAAP
Experience with current computer accounting programs and reporting tools
Detail and deadline-oriented
Strong analytical and problem solving skills
High proficiency with Quickbooks/Accounting Softwares
Company Description
We serve as the Private CFO and Accounting Team for high net worth individuals and entrepreneurs. Our client base is comprised of celebrities and professional athletes who are looking for creative solutions to grow their brands and to create generational wealth. Our success is based on having the best employees in the industry. From our CPA to Tax Attorney, Bookkeepers and Management, we have the best of the best on our team.
We serve as the Private CFO and Accounting Team for high net worth individuals and entrepreneurs. Our client base is comprised of celebrities and professional athletes who are looking for creative solutions to grow their brands and to create generational wealth. Our success is based on having the best employees in the industry. From our CPA to Tax Attorney, Bookkeepers and Management, we have the best of the best on our team