October 8, 2023
Administrative Assistant Spotsylvania VA USA
Full Time
$20/hr - $22/hr USD / Hour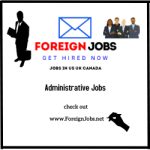 Position: Administrative Assistant
Industry: other
Employment: Full Time
Experience: 2 year
Qualification: Degree Holder
Salary: $20/hr – $22/hr
Location: Spotsylvania, VA, USA
Company: Talent Corps
Description:
Administrative Assistant
Talent Corps is hiring an Administrative Assistant for a project in Ruther Glen, VA!
The job is Temp to Hire. Will hire permanently after 90 days depending on work performance!
PAY range is from $20/HR to $22/HR based on experience.
The selected candidate will work to support and provide administrative assistance to the HR Manager, Production Department Managers, and other team members. The ideal candidate will keep track of candidates in different stages of the hiring process, including coordinating interviews with hiring managers, providing assessments to new applicants, and completing the required paperwork for the hiring process. The work will almost entirely be paperless, and high proficiency with computers, smartphones, and tablets is required
Job Description and Responsibilities:
Reliable Transportation
High School Diploma with two years of experience.
Must successfully pass a drug test and background check.
Familiarity with professional-grade scanners/printers/fax machines
Extreme proficiency in all Microsoft Office products (Excel, Word, PowerPoint)
Extreme proficiency with computers in general and an ability to learn new programs rapidly and effectively.
Must be committed to excellence and generate a high quality of work.
Must consistently report to work on time, work well with other employees to accomplish a common goal, and maintain a safe work environment.
Must be eligible for employment in the U.S. through E-verify.
Bilingual a plus.
Company Description
Talent Corps is dedicated to Strengthening Americas Workforce through trade specialization. By offering Trade Specialization in each of our Talent Divisions, we provide leading workforce solutions on a global platform.
Talent Corps is dedicated to Strengthening Americas Workforce through trade specialization. By offering Trade Specialization in each of our Talent Divisions, we provide leading workforce solutions on a global platfo