July 12, 2023
Administrative Assistant 2
Full Time
$3,145/month - $4,174/month USD / Month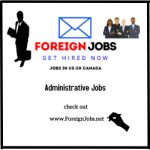 Washington State University
Position Administrative Assistant 2
Industry: Education
Employment type: Full Time
Experience: 1 year
Qualification: Bachelor's degree holer
Salary: $3,145/month – $4,174/month
Company: Washington State University
Location: Pullman, WA,USA
Description
Administrative Assistant 2
About the job
Available Title(s)
105F-YN_CS_NPS – Administrative Assistant 2
Business Title
Administrative Assistant 2
Summary of Duties:
Serves at the first point of contact for the School of Music and as the receptionist for the office while providing information to faculty, staff, students, and the general public regarding the School's policies, procedures, and upcoming events. The incumbent performs a variety of complex clerical duties in support of the School of Music such as preparing reports, verifying inventory and gathering personnel documents and/or records, composing correspondence such as transmittals and responses to frequent requests for information, establishing manual or electronic record keeping/filing systems and/or data base files, and responding to inquiries requiring substantive knowledge of office/departmental policies and procedures.
Required Qualifications
One year of experience as an Administrative Assistant 1 OR a Bachelor's degree in business administration, public administration, or closely allied field and two years of responsible office experience at the senior clerical level or higher.
Clerical or office work experience may be substituted for education on a year-for-year basis. Graduate study may substitute for experience on a year for year basis.
Two years of customer service experience.
Excellent communication skills, both written and oral.
Preferred Qualifications
Professional working experience in a higher education environment.
Excellent editorial/proofreading skills with experience in word processing.
Strong computer skills and proficiency with Microsoft Office programs including Word, Excel, Outlook and PowerPoint.
Additional Information
Area/College: College of Arts and Sciences
Department Name: School of Music
City, State, Zip: Pullman, Washington 99164
Monthly Salary: Range 37 | $3,145 to $4,174 A-M | Successful candidates typically begin at the beginning of the salary range and receive scheduled salary increment increases in accordance with WAC 357-28. WSU offers a comprehensive benefits package which includes: paid sick and vacation leave; paid holidays; medical, dental, life and disability insurance package for employees and dependents; retirement; deferred compensation and optional supplemental retirement accounts. For additional information, please review the summary of benefits offered by WSU for classified staff and Total Compensation.
Overtime Eligibility: overtime eligible
FTE: 100%
This is a Permanent position
Posting Close Date: Applicants must submit their completed application by Sunday, July 23, 2023 at 11:59 p.m.
Background Check: This position has been designated by the department to require a background check because it requires access to children or vulnerable adults as defined by RCW 74.34, engages in law enforcement, requires security clearance, interacts with WSU students in a counseling or advising capacity, has access to personal identifying and/or financial information, unsupervised access to university buildings/property, or other business-related need. A background check will not be completed until an initial determination of qualification for employment has been made.
Application Instructions: Applicants must upload the following required documents to their online application. External candidates, please upload all documents in the "Resume/CV" section of your application. Internal candidates, please upload all documents in the "Resume/Cover Letter" section of your application.
Required Documents
WASHINGTON STATE UNIVERSITY IS AN EQUAL OPPORTUNITY/AFFIRMATIVE ACTION EDUCATOR AND EMPLOYER. Members of ethnic minorities, women, special disabled veterans, veterans of the Vietnam-era, recently separated veterans, and other protected veteran, persons of disability and/or persons age 40 and over are encouraged to apply.
WSU employs only U.S. citizens and lawfully authorized non-U.S. citizens. All new employees must show employment eligibility verification as required by the U.S. Citizenship and Immigration Services.