November 6, 2023
Accounting Analyst New York United States
Full Time
$100K – $130K/Annually USD / Year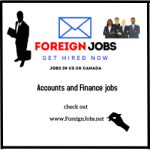 Position Accounting Analyst
Industry: Other
Employment type: Full Time
Experience: 1 to 3 year
Qualification: Degree Holder
Salary: $100K – $130K/Annually
Company: New York, United States
Location: DV Trading LLC
Description:
Accounting Analyst required
Founded more than 15 years ago and headquartered in Chicago, the DV Group of financial services firms has grown to more than 350 people operating throughout North America and in Europe. Since spinning out of a large brokerage firm in 2016, DV Trading has rapidly scaled as an independent proprietary trading firm utilizing its own capital, trading strategies, and risk management methodologies to provide liquidity to worldwide financial markets and hedging opportunities to commodity producers and users. Now, DV group affiliates include two broker dealers, a cryptocurrency market making firm, and a bourgeoning investment adviser.
We invest in exceptional individuals and empower them to realize their goals and make a lasting positive impact on our organization. Engaging a diverse group of talented people from different cultural, socioeconomic, and educational backgrounds helps provide us with a competitive advantage that drives our success.
DV Energy is a rapidly growing division that specializes in trading crude oil, refined products, natural gas, and related energy markets across US, Europe, and Asia. Our proprietary risk management and trading methodologies along with a strong ability to adapt to changing conditions has allowed DV Energy to grow into one of the largest financial participants within the global energy complex.
Job Responsibilities:
Work closely with DV Energy Operations to manage accounting and finance operations.
Handle daily DV Energy PL reporting and reconciliation vs prime brokers and third-party exposure.
Audit and maintain database of all DV Energy third-party costs & subscriptions.
Make sure all costs are correctly allocated to profit centers and proactively cancel/reallocate unused services.
Liaise with DV Trading accounting team to ensure accuracy of general ledger entries and necessary adjustments.
Assist with analyzing trader profit centers monthly to ensure accuracy and post necessary accruals
Perform ad hoc requests such as analysis, reclasses, allocations, etc.
Apply accounting principles, theories, and practices to a wide variety of tasks.
Prepare documentation of processes to better monitor internal controls.
Learn various daily tasks of other team members to provide back-up and support when needed
Perform other duties as assigned by your supervisor as needed.
Requirements:
Bachelor's Degree in Accounting, Finance, or related degree.
1-3 years of accounting experience desired.
Experience working within a G/L system, for example Microsoft Dynamics.
Advanced Excel knowledge and skills; SQL and/or Python a plus.
A strong desire to partner and collaborate with various teams across the firm
Excellent communication skills, both written and verbal.
A tech forward approach to managing day to day tasks – we love to automate and make things more efficient and so should you!
Strong problem solver with the ability to navigate ambiguity and leverage your resources.
The desire to take ownership of projects and ideas, while being able to identify gaps and other areas of improvement.
The ability to adapt to a dynamic and ever-changing environment – we are in high growth mode and move quickly to achieve business goals.
Annual compensation range: $100 – $130K + discretionary bonus eligibility